Jackson pacing Boys' Basketball at midseason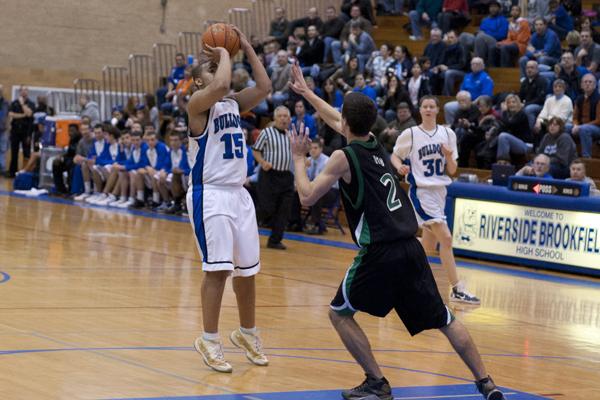 The Boys' Basketball team is continuing to have a successful season thus far, charging out to a 12-4 record. Ryan Jackson has steadily paced the team all season long, dropping over 30 points several times and recently scoring 40 in a win over Illiana Christian. Jackson also recently became a member of the 1,000 point club at RB, just the 9th player to do so.
The Dogs are still undefeated in conference play, and aim to run the table in their remaining conference games leading up to the state playoffs. Last year the Bulldogs' season ended in heartbreaking fashion after a buzzer beater sent the game into overtime against the eventual victors Marshall Commandos.
The Bulldogs have also received solid play from seniors Charlie Morrissey, Alex Dziagwa, Nate Hanley, Jake Johnson, Watoris Slater, and Mike LeBeau. In addition, one of their biggest contributors this season is sophomore Damonta Henry, who led the sophomore team last year as a freshman. Junior Luke Nortier has also been solid off the bench thus far, and is earning more and more minutes each game.
Friday, the Bulldogs will welcome the Ridgewood Rebels and also feature the Alumni Game. The senior guard Morrissey is not taking Ridgewood lightly. However, he feels that there's a few important ways to beat the Rebels, "The Rebels have 12 or 13 guards on their team, so I think if we can stop their three-point shooting and protect against the drive and kick-out offense we should be able to win."
The team has lost quite a bit of depth from last season, but they feel that they still have the talent to recapture last season's success and build on it. Coach Tom McCloskey has his kids playing at a high level, something that he feels confident in. They have nine games left on their regular season schedule and seven of them are conference games.
They will have the tough task of traveling to North Park University on Saturday to play Farragut Career Academy, ranked #3 in the state. They also host Morton on Tuesday, February 22nd, which is Senior Night at RB. In all likelihood the Dogs will be in a good position to receive a higher seed come playoff time, most likely receiving a #5 or #6 seed in their Sectional.