Bulldog Spotlight: English teachers win national honor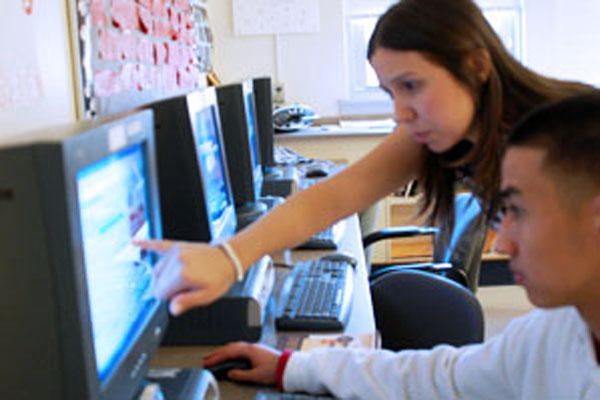 Three RB English teachers recently received prestigious grants from the National Endowment for the Humanities (NEH). The NEH is a federal agency that funds programs for educators across the country. There are many programs that educators can apply for, and the NEH offers fellowships in study areas of their interest.
English teachers Cherise Lopez, Bridget Wilmot, and Daniel O'Rourke all received summer fellowships to go to seminars in different cities around the country.
Lopez, who sponsors the school's yearbook, will be attending "Emily Dickinson: Person, Poetry and Place," in Amherst, MA for a week in the summer. Here she will be a student again, going to workshops and reading about Emily Dickinson. She will see Dickinson's home where she grew up and look at her original documents.
"I teach about her in class so I'm looking forward to learning how to incorporate the things I learn here back into the classroom," Lopez said.
Wilmot will be attending "A Rising People: Ben Franklin and the Americans" in Philadelphia, PA. There she will go on walking tours, attend lectures, and retrace Benjamin Franklin's footsteps.   
"I think Benjamin Franklin is one of the most fascinating persons in history. We'll go to places he went and also go to a concert that will play the music that was played during his time period," Wilmost said.
O'Rourke is going to Monterey, CA and attend "John Steinbeck:  Voice of a region, Voice for America."  He'll go on boat rides to study what Steinbeck wrote about sicne he was a marine biology enthusiast.
O'Rourke said, "I'm excited to go because I'm going to learn thigns I can teach more about in American Studies.  I'll find more connections between history and literature."
Teachers must apply for often competitive spots to attend NEH fellowships.  The work is not paid, but teachers receive a stipend from the NEH to help cover travel, room, and board.