Administrators receive raises against backdrop of cuts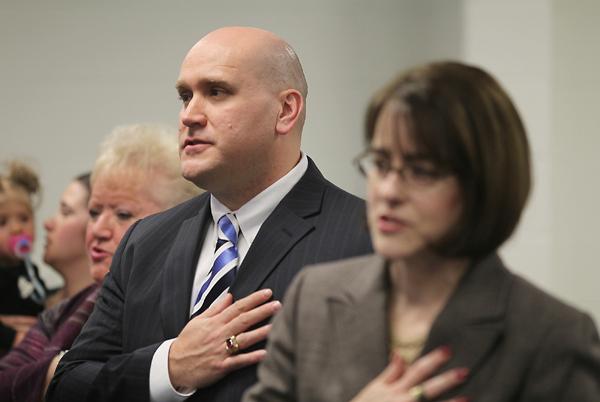 During a closed meeting of the Board of Education on August 9th, the board unanimously approved pay raises for all of its top administrators except for new superintendent Dr. Kevin Skinkis who is in the first year of his contract.  Beneficiaries include Principal Pam Bylsma, Assistant Principal of Curriculum and Instruction Tim Scanlon, Assistant Principal of Student Affairs John Passarella, Dean of Students David Sibley, and Director of Special Education Gayle Brankin.
Scanlon's raise (6%) was predetermined in his contract, approved in 2009, because he will be retiring at the end of the current school year.  At the time it was approved, Scanlon's raise structure mimicked pay raises offered to retiring classroom teachers.  No other administrator's raise was arranged due to terms of a previously existing contract.
Each administrator has a different contract, and each one expires after a certain number of years.  However, after each school year, administrators are eligible to receive a raise.  The school board discusses the outcome of the school year and reviews job performances in closed sessions and goes on from there to determine appropriate raises.
The raises have sparked strong negative reaction from some of the public, notably those commenting within the anonymous forums of the Riverside Brookfield Landmark.  Those posting have questioned why raises were granted to administrators following a summer where significant student activities such as the Fall play, Spring musical, and Math Club were cut for budgetary reasons.
In response, Skinkis said, "This item was already on the table from [former superintendent] Dr. Bonnette.  It just never got finalized.  No employment group at RBHS took a pay freeze this school year."
In a much publicized announcement, the RB teachers' union offered a partial pay-freeze last year if the referendum had past.  The freeze would have affected the base pay of all non-retiring teachers, though teachers still would have received raises for increasing experience.  When the referendum failed, the teachers' union retracted this offer.
While no employment group at RB saw a pay freeze this year, most other aspects of the school faced budgetary cuts.  22 clubs were eliminated, at least one assistant coach was removed from each sport, and a "Pay to Play" fee system was instituted.
School board President Matt Sinde explained some of the decision-making process behind the raises.
"The salary increases that were given to our administrators were a percentage of CPI (Consumer Price Index).  By doing this, we are managing within our revenue stream.  District 95 recently renewed the contract of their superintendent with salary increases as a percentage of CPI," he said.
Sinde also noted that RB's administrators work hard for the benefit of students and deserve a reward for that work.
"The administrators at Riverside Brookfield High School work long hours to provide the leadership needed to provide our students with an excellent educational experience which will help them to succeed in their future endeavors," he said.
He also acknowledged how the budgetary constraints facing RB have changed the scope of the administrators' work.
"Our administrators will be asked to do more with less this school year and next school year," he said.
Other than Scanlon's contractually guaranteed 6% raise, administrator raises ranged from 1.53-2.7%.  According to the Illinois Interactive School Report Card, administrators at RB earned an average of $130,855 in salary during the 2010-2011 school year.  In comparison, administrators at Lyons Township earned $137,525 and administrators at Oak Park River Forest High School earned $154,697.