Blood drive saves hundreds of lives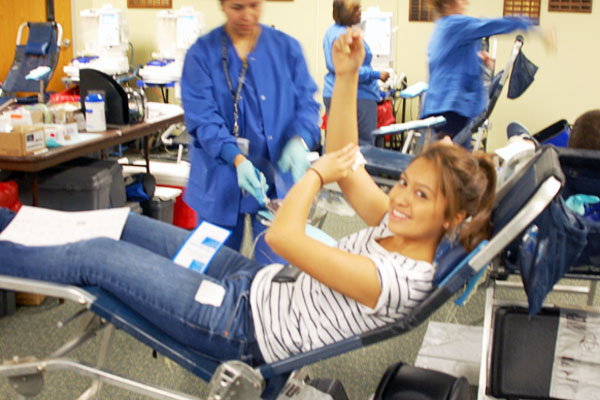 RB's first blood drive of the year took place on Wednesday November 2nd. Students, staff and community members had the opportunity to donate throughout the entire day. This year, a total of 119 pints of blood were collected. Each pint of blood collected has the potential to save three lives, meaning that this may save over 350 lives.
The blood drive, sponsored by the Student Association, has been held at RB for over twenty years. In the past, SA would typically run three blood drives each year, but due to the reduction of SA sponsors, there will only be two blood drives this year.
"The reduction of SA sponsors meant that I needed to work more closely with students, as well as helping recruit and meeting with Lifesource prior to the drive. So, there was a lot more pressure on me because this would normally be divided between two people. Also, there's normally two sponsors who check in during the blood drive, so we had to call in help from Mr. Pasarella and school security," said Angela Ziola, Student Association sponsor.
This year, the goal was set at collecting 120 pints of blood. However, the school fell only one pint short. In previous years, blood collection averaged about 100 pints.
In addition to saving lives, there was also the motivation to donate in order to win scholarship money for the school.
"The school must hold a minimum of two blood drives to qualify for scholarship money, and each drive must have at least one hundred donors. We get a minimum of $500 per drive, which means we will receive at least $500 by the end of the year," said Ziola.
"I donated because I wanted to help other people, plus it was nice to get out of class," said junior Mitchell Malloy, first time blood donor.
Students and community members still have the chance to donate for RB by donating at any Lifesource center and presenting the code "313" before they donate. In addition to this, the school's next drive will be held on Wednesday February 29th, and the Student Association is looking forward to another successful blood drive.