Student teachers leave their mark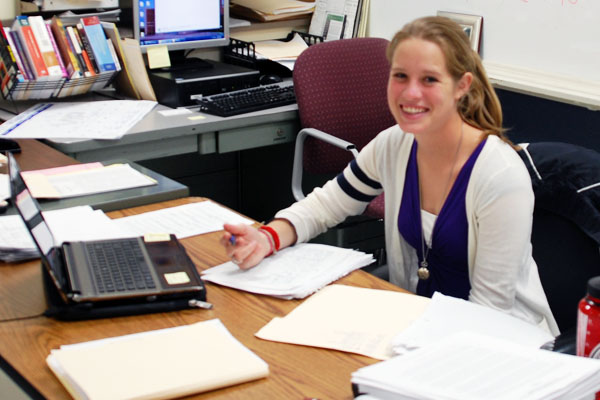 During first semester, RB has hosted two student teachers, Tricia Sabatino and Alison Rack. Sabatino taught for Bill Frey in Health and Rack is working with English teacher Dan O'Rourke.
 Being a student teacher is a 15-18 week long assignment from college, though a student will work in a cooperative internship with a willing teacher for just six weeks. They will work on creating a class schedule and curriculum. For students, this experience gives a different style of teaching compared to their normal teachers, and it gives the student teacher hands on experience with students in a classroom environment. While the student teacher is working, a college professor will come to the student teacher's class to see how he/she is doing with teaching, but the actual grade the student teacher receives is largely based on the classes' real teacher's recommendation.
Sabatino has already left RB due to a death in the family.  One of her students, Nick Kenealy, said, "I didn't think she was the greatest teacher; she had problems keeping the class under control." However he also said, "She taught the material well."
Frey offered some perspective and said, "Northern (Illinois) did a great job preparing her. It's the first time she had taught. I've had a lot of student teachers; she was one of the better ones."
Ever since she was a child, Oak Park River Forest High School alum Allison Rack wanted to be a teacher. She remembered going home and playing school with her little sister. She would take everything she learned in school and re-teach it all to her little sister. She grew up following her dream as a teacher, now her dream has come true; she's working as a student teacher at RB.
She went to college and is a minor in classical studies and over the summer she worked at an eight week summer camp in Seattle, Washington. In high school, she wanted to go to a large college. De Paul wanted to recruit her for athletics and so did Loyola, but she enjoyed the running team at Loyola more and decided to go there.
Rack has been enjoying her work in English. "I love it; it's a good community with a good rapport," she said. Rack has been here since the first day of school, and will remain here till December third. She said that her students were hard working and bright, but she couldn't come up with any negatives about them.
Rack commented on her style of teaching by saying, "I just try to be myself."
 O'Rourke commented on how  Rack was doing as a teacher. "She's doing exceptionally well," he said.