Shenanigans bringing Uncle Dayton to students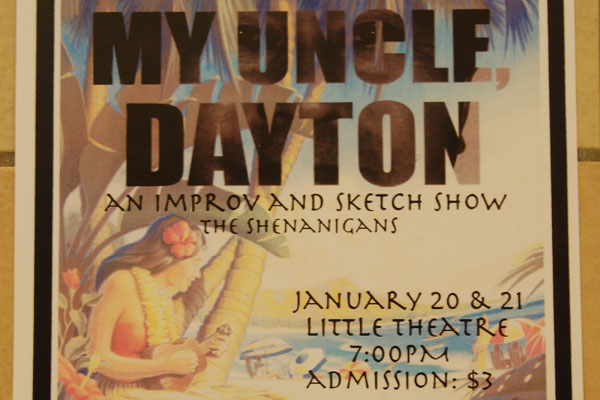 Everyone is awaiting the upcoming Shenanigan's show "My Uncle Dayton", being performed on January 20th and 21st. This comical improvisational group has made the students at RB literally laugh at loud.
Junior James Landahl said, "'My Uncle Dayton' is the story of a sloppy uncle with lots of hilarity."
The Shenanigans Improv shows seem to always have a great turn out. The students at RB seem to really enjoy it. People seem to like it because it is a fun and cheap way to spend your weekend. There almost is always a full house.
Landahl said, "In the past we've had a good eight packed shows. This year we're expecting none the less."
Senior Sam Friend said, "I'm really stoked for the show. It's different every time we perform it. Part of the fun is that there are always new sketches."
Senior George Suchy said, "The show will be really funny. This is one of our biggest show action wise."
The group consists of Jacob Palka, George Suchy, James Landahl, Sam Friend, Allison Nicolai, Andrew Payton, Sara Nie, Abe Ourth, Lorelei Volpe, Conor Fagon and Andy Volpe.
Landahl said, "This year we lost a lot seniors but we gained so many new people. Each show we do is different from the last. It's all in the development."
This year at RB there have been many cuts in extracurriculars because of the slim budget. Shenanigans has hung in there so they are hoping for a lot of support from the RB community.
Landahl said, "We are one of the last self sustained clubs remaining. So come out and support the school and community while at the same time getting a laugh out of it."
The title of this show is a little random. Some might ask, what is the story behind the title 'My Uncle Dayton'?
Friend said, "George Suchy has an uncle named Dayton from Hawaii. All of us just thought it was sort of funny."
Suchy said, "If you look at the poster for the show closely, you can see Uncle Dayton's face in the letters. He's a cool guy."
Landahl said, "I would like to give a shout out to Uncle Dayton, the man."