Art, Math clubs follow the road to reinstatement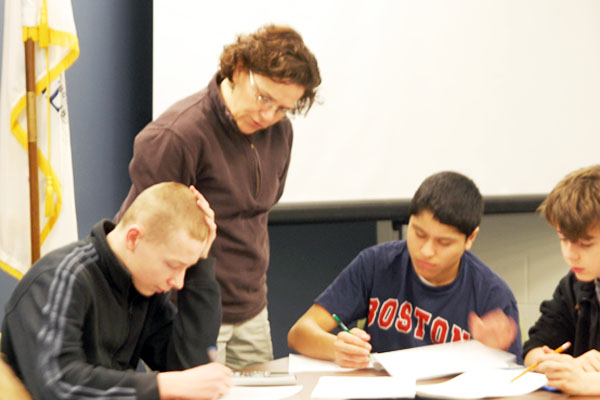 Due to the budgetary constraints that have impacted RB over this past school year, difficult decisions were made by the board concerning what clubs were to be funded and which were to be cut.
Two of the cut clubs, Art Club and Math Club, have now recently restarted thanks to the school board's decision to allow outside funding. 
Decisions on cuts were initially made by looking at areas where students had exposure to the topic of the club in the everyday curriculum.  If the material was not offered during the school day, the board still wanted to make it available to students by offering it in extracurricular activities. 
PrincipalPam Bylsma said, "Things that were kept were service clubs or opportunities that didn't exist during the school day." 
The process involved the school's entire administrative team.  They knew that each club is important to those who are involved in it, and that no one would be entirely happy with the outcome. 
"I haven't seen a single student involved in a club that wasn't a great young man or woman that deserved that club," said Assistant Principal John Passarella. 
Passarella was asked to reach out to districts around the state to see how they were dealing with budgetary cuts that impacted clubs and their policies on reinstating clubs with outside funding.  At first, he didn't receive a good response, as no one in RB's conference accepted outside funding.  
The policy was a time consuming decision for the board as it raised many questions.  How would supporters go about raising funds?  Who could raise funds?  
Eventually, the policy was approved and clubs gained the ability to reinstate themselves by having someone raise the money to support the club.  Any club that was cut could return by receiving outside funding and locating a qualified sponsor.  Outside funding could be from parent donations, businesses, or student fundraising.  According to the RBEA collective bargaining agreement, sponsorships had to be offered internally first, but after that, the job could be offered externally.  After a check for the fundraising is written, a sponsor can then be assigned, go through a criminal background check, and be approved by the board. 
The first club to return in this fashion was Art Club.  A parent donation was made for the same amount of funding that the club had last year.  A sponsor was found and approved by the board and the club was reinstated.  It has recently begun to meet again. 
Last year the art sponsor was RB Fine Arts teacher Suzanne Zimmerman.  This year, the club is being sponsored by Heather Young, an art major and substitute teacher at RB.  Young has many plans for the club this year.  She plans to do painting projects and field trips.  She hopes to have a student art show and drawing projects, invite professional speakers, and much more.  
"Art club is important because it touches on so many different fields and can be connected to students' everyday life," she said. 
Young also noted that the club gives students who didn't have room in their schedules a chance to experience an art class.
Zimmerman said, "I think that it's important to focus on how awesome Mrs. Young is doing.  She's a great artist and she knows the department and the students." 
Math Club has been slower in getting reinstated.  It took a group effort to raise the money for the club.  When the sponsorship was offered internally to RB teachers, none were ready to sponsor the club.  During a Chicago Tribune story on the club, former sponsors commented that they were now involved with other obligations including graduate school and family obligations.  
However, two external sponsors have now been approved by the board after criminal background checks were conducted.  Both sponsors have backgrounds in education and are eager to start.  
Holly Machina taught math for five years, most recently at the Islamic Foundation school in Villa Park, though she's been on a break raising a family for the last twelve years.  Machina substitute teaches at RB on occasion and heard about the opening through Human Resources secretary Roseanne Marshall.
"Because of competitions," Machina said, "the club really needs two sponsors."
The second sponsor, John Henle, retired a year and a half ago from a career of teaching math at Wells Community Academy High School in Chicago. 
"I saw [the opening] in the Chicago Tribune," he said, "and after vacation I called, thinking someone would have grabbed it.  It's such a great job." 
Math Club held its first meeting on the morning of Tuesday, January 31st, in the Lehotsky Room.  The first meeting was well attended by approximately twenty students. 
The club has a lot of preparation to do as competitions start in mid-February.