High-energy Slowikowski gets mixed student reactions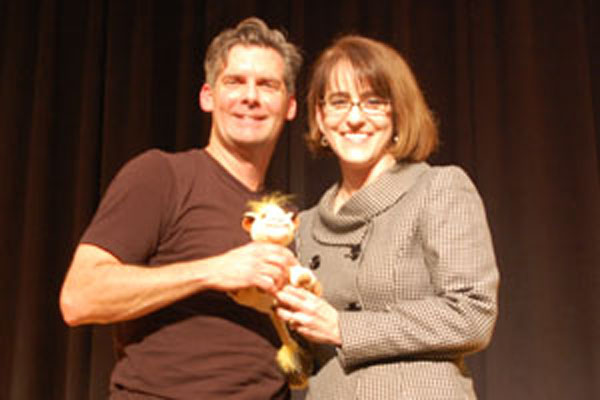 On January 31st, world renowned motivational speaker Eddie Slowikowski visited Riverside Brookfield and spoke to the student body. His message was centered around achieving goals and overcoming obstacles in life. Slowikowski brings a very different approach to his presentations, including many life stories full of passion and determination.
He has dealt with many obstacles throughout his life, but has persevered.  Slowikowski was a three-time Division I All-American Track and Cross Country runner at Loyola University. He is a member of an illustrious group, one of only a handful of people to run a mile in under four minutes.
In 1990, Slowikowski won a gold medal as a member of the US Track and Field team at the International Competition in London. After his running career ended, he became a professional speaker and empowerment strategist and has been speaking to students all over the country ever since.
Slowikowski made two, one hour presentations to the entire student body. Both presentations were marked by high levels of student engagement and participation.
"I really liked it. It was definitely very entertaining," said sophomore Curtiss Stewart.
Slowikowski uses a high energy level and a witty sense of humor that kept the crowd laughing and dancing throughout the presentation. Some students, though, questioned what the message was and what point Slowikowski was trying to get across.
"I thought it was entertaining, but the message was a little unclear because he would start a message, then not finish it," said Senior Jordan Krikie.
The presentation included a lot of dancing and interacting with the audience, with an overall message of achieving your goals and being yourself as the theme. He performed many different comedic skits that were meant to be entertaining as well as inspirational.  The first presentation began with Slowikowski telling an emotional story about his mother and his childhood.  In the second presentation, he re-enacted the experience of breaking the four-minute mile.
"I thought it was inspiring. I learned that no matter what people think, you always have to be yourself," said sophomore Nora Maye.
This year's presentation mirrored an all school assembly from last year that featured Navy Seal and author Eric Greitens speaking about his experiences and overcoming obstacles.