Leaving NCLB behind; the switch to Common Core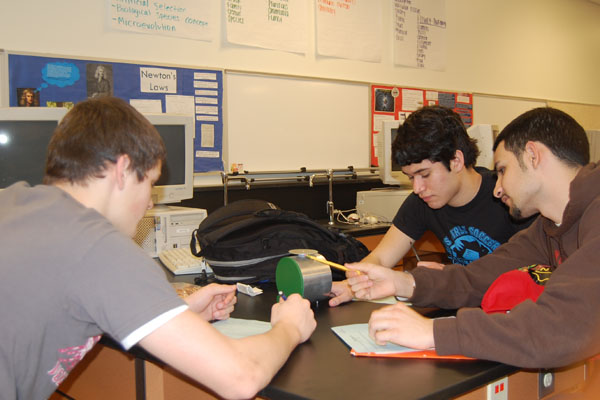 In the next few years, students at RB can expect some significant changes to their classroom learning environments. Mandated by the state of Illinois, RB will be making the transition from No Child Left Behind to Common Core, a program that includes a new set of national standards and tests regarding development in the classroom.
The Illinois State Board of Education has adopted these new standards in both Mathematics and English Language Arts. The goal in mind is to better help prepare Illinois students for college and the workforce in an already very competitive global economy.
Common Core tests will be given three times a year to help measure student individual growth rather than the program that No Child Left Behind had in place. That program measured one group of students against another group the following year to track yearly progress as a whole, rather than individual growth.  From students' perspective, this testing happened during PSAE days in April.
The Common Core tests will be given to track improvement and development in multiple subjects. All Illinois schools will be measured according to these standards and tests will be developed to determine how students are performing in terms of those standards. Some schools already have a leg up on the competition and will be piloting this new program starting next school year. By the 2014-2015 school year, all schools will have the program completely implemented into their curriculum and will have their students taking three tests a year to track improvement. All of these tests will be computer based.
Principal Pam Bylsma is excited about the upcoming changes and looks forward to implementing Common Core into the curriculum at RB.
"These standards are a positive change. The focus is on complexity of thought, higher order thinking, problem solving, and interdisciplinary connections. I expect many positive outcomes from the Common Core standards, which will expand how we approach the delivery of content," said Bylsma.
Students, although they may not know it, have already experienced many changes in the classroom. Last year, RB undertook a school wide effort to add more non-fiction and analysis into content areas. These sorts of books and readings are helping get students ready for college and life as an adult. Reading non-fiction material and analyzing documents is a skill that is very applicable to real life situations.
"We need to get students ready for careers and this kind of critical thinking and collaboration is very important to the goals of Common Core," said Assistant Principal Tim Scanlon.
Also, the school has really pushed for the expansion of informational writing throughout all subjects and grade levels. Students are now expected to demonstrate that they have not only looked over the material, but that they understand enough to where they can write about it and fully grasp the meaning of what they're learning.
Many real-life projects and problem based learning assignments have already been implemented into the curriculum such as work with actual scientists and hospitals in the area. One project that has already taken root at RB is the garden that is located near the bleachers at Shuey Stadium. Once the weather gets a little warmer, the garden should be up and producing fresh fruits and vegetables in no time.
The school administration believes this kind of innovative thinking is going to put RB in a great position to give its students the education they not only deserve, but need in society.
Although it is not certain whether Common Core will be more successful than the previous program, No Child Left Behind, optimism is very high for this new set of classroom standards.