We turned around and Turnabout was gone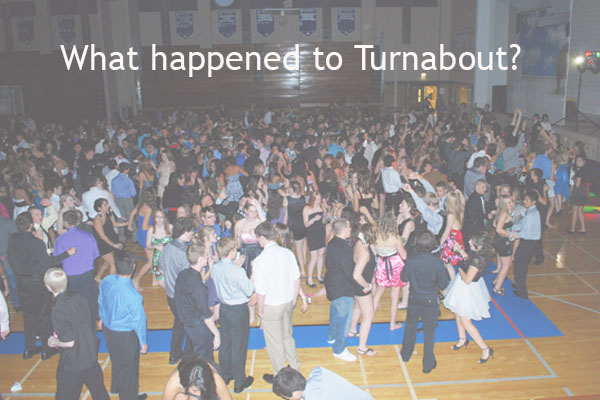 This year the Student Association had to pull the plug on the Turnabout dance. The Turnabout dance is a tradition at RB where girls ask the boys to the dance.  The dance usually takes place around Valentine's Day in the RB gymnasium.  The dance has had a long tradition at RB, often prompting the girls to get extremely creative in pursuing the guys.
The absence of Turnabout has left many students confused as to why the dance did not take place this year. SA members were confused themselves.
"I don't agree with the way SA delegates responsibility to the things they run. I feel like they don't use their resources to their fullest potential," said an SA member who wished to remain anonymous, "I was disappointed in the efforts put forth into running this dance."
SA President Julie Sinde disagreed with this comment. While she has enjoyed the dance for the past three years, Sinde realized it just was too much to handle this year.
"We didn't have enough money and [Sponsor Angela] Ziola said the plate is full. I'm always in for a fun time, but because the referendum didn't pass, our funding was cut in half. It just wasn't an option this year," said Sinde.
According to Ziola, Turnabout costs around $ 1,500 to run, while the homecoming dance costs around $2,000. Ideas were thrown around to cut the cost, but Ziola wanted to run the dance the right way if they were going to do it. Planning for Turnabout usually starts in early January and goes through the end of February.
"There are multiple committees involved," said Ziola.
Ziola acknowledged that budget cuts impacted the decision to skip Turnabout.  "We do get a portion of the activity fee that students pay to get into events, but we were given less money this year from that and we lost a sponsor, so that makes it more time consuming." Instead of Turnabout, SA still ran a blood drive and Glass Slipper Project.
The Student Association had to also cut other things from their usual budget this year. They could not sponsor girl's powder puff football, which was taken on instead by National Honors Society, and one of the three blood drives was cut.
Other club sponsors were asked by students to take on the Turnabout dance as a part of their club. NHS and OLAS considered the project, but in the end decided it was too costly and time consuming as well.