Class of 2012 ACT scores equal some of the highest yet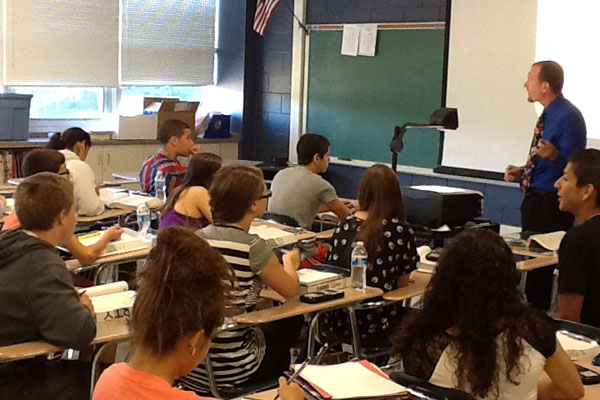 Students and staff learned recently that hard work really does pay off in the end.  RB administration recently announced that the class of 2012 raised its average ACT score to 23.6, a 0.3  increase from the 23.3 score posted by the Class of 2011. It was also much higher than the state average, which was 20.9. The average composite ACT score is based on exams given to upperclassmen in the areas of Math, Science, English and Reading.
Last year, 41% of students met college readiness standards in all four subjects, an outstanding achievement when compared to the state percentage of 25%.  RB's average score in each subject area was also higher than the state average by at least 2 points, including a 3.2 point advantage in English.  The 2012 scores in all subject areas are at their highest in the last five years.
In order to help students achieve these test scores, RB offers College Admissions Prep classes, which are designed specifically towards helping you learn how to get the best ACT score possible.
When asked about what the administration does to help students achieve excellence on the ACT, Principal Pam Bylsma said, "What we're trying to do is identify kids coming in as freshmen or transfers that need interventions and get them the best kind of interventions."
These classes are proven to work and are a contributing factor in the success RB had last year and in the past.
"Our school does a lot that other schools do not do," Bylsma said.  "I just got the scores from college readiness students who are seniors this year but went through that program last year.  They grew [their scores] an average of 3.45 [points]." These students were enrolled in extra classes in addition to CAP and it was their choice to take them, showing how hard they worked to improve their scores from their first ACT score they ever took.  "One student grew [their score] 6.7 points," Bylsma said. "I always tell you guys that effort equals achievement; if that doesn't tell you effort equals achievement, imagine if everyone grew their scores by that much."
CAP is offered during the school day and after school. It can be a year or semester long course, depending on where students are at after they take a practice ACT, or PLAN, test you take as a sophomore as well as testing the school does before and during your freshmen year. The class of 2012 also had Academic support as well, where teachers were sent to help students who need it.
Chicago magazine also listed RB as the 9th best high school in Cook County, ranking it ahead of local rival Lyons Township whose district came in 13th. Rankings were based on multiple factors including ACT and PSAE scores, average spending per student, percent of students with low income, graduation rate and enrollment.