Retired Specht, McOlgan return in reduced roles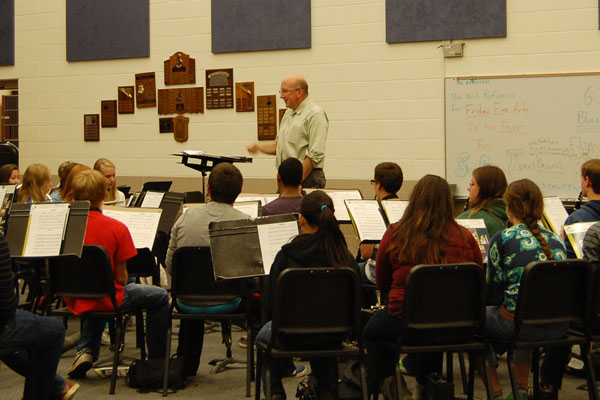 Though they originally planned to retire this previous year, long-time RB teachers Bruce Specht and Kevin McOlgan returned to RB in reduced roles. McOlgan and Specht have taught at RB for nineteen and sixteen years, respectively, and have a lot planned for this year.
Last year, the administration offered about $25,000 in early retirement bonuses to three teachers in a hope to save about $300,000 this year. However, the administration offered Specht and McOlgan part time positions at the school, so they will teach fewer classes. For example, Specht, who is in the Applied Arts department, taught five classes last year, and will teach only two classes this year. McOlgan, who teaches in the Fine Arts department, will teach three classes this semester and two classes next semester.
The reduced work load has given the year a different feel for McOlgan and Specht. However, both are glad to have the opportunity to work with students.  "Certainly a lighter workload feels different, but more than that, I'm not here all day like I have been for the past number of years. I miss some of the interactions with friends and peers" said Specht.
"We're making a transition in the music program. It's a bit unsettling at times. It has a different feel, but I'm thrilled to be back with the kids," said McOlgan.
In addition, Specht and McOlgan miss teaching certain subjects at RB. Specht says he especially misses teaching the Introduction to Electronics class. McOlgan says he misses the opportunity to work with beginner and intermediate musicians in the Cadet and Concert Bands. However, he is excited to teach Fine Arts Survey this semester.
"I love teaching that class. I haven't taught it for years. The kids that come in seem so eager. We've had a lot of fun in it so far," said McOlgan.
Specht and McOlgan decided to continue teaching part time this year primarily because they enjoy working with the students at RB.
"I enjoy working with the students. I've developed many good friends here with the faculty and I would really miss it," said Specht.
"It's in my heart and blood to teach. I couldn't see myself not teaching," said McOlgan.
Now that they are teaching fewer classes, Specht and McOlgan both plan to pursue other interests outside of RB. Specht hopes to work with animals and train dogs in his free time. McOlgan plans to continue working with his private lesson students.