Tutoring: it's not just for NHS anymore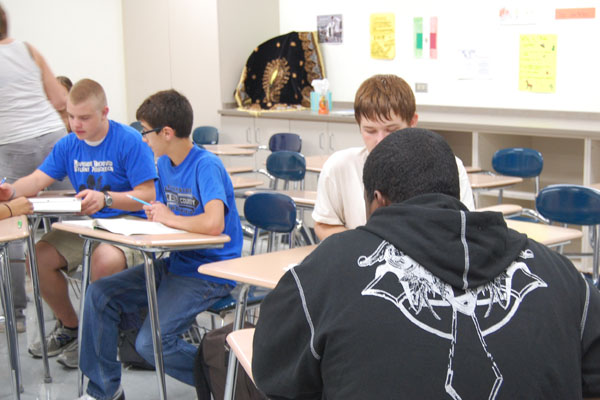 Studying a foreign language is something students of all ages struggle with, and as you get into higher levels of the language you're studying, it can become extremely overwhelming.
Luckily for RB's many Spanish students, the World Language department is offering up some help. Every morning, excluding Thursdays, students currently enrolled in AP Spanish will be available in various classrooms to help you out with whatever you're struggling with in your Spanish class.  Their help will also be available on Wednesdays after school.
This is the first year of the program and teachers are hoping for it to be a huge success. "We hope that students get individualized practice, further preparation for tests and quizzes and reinforcement of previously learned and new skills," Spanish teacher Jessica Mauritzen said.
The World Language Department, as a whole, has high hopes and goals set for this new program. "As a World Language Department, we recognize the power and effectiveness of peer leadership and peer tutoring. Our goals for the program are twofold. The first goal is to offer our level  one through level four Spanish students the opportunity to receive extra help and guidance from their peers who are in AP Spanish," Spanish teacher Jenna Osburn said. "We want to offer our students as many opportunities as possible for extra instruction in the language."
"The second goal for the program is to offer the AP Spanish students the opportunity to tutor and mentor younger students in the Spanish program. We know that our AP students will gain more confidence and understanding as well by teaching the language to others," said Osburn.
The tutoring sessions have already been a success for one student "I had one student, specifically," Mauritzen said. "Two days before the official program started she received some help for test preparation from two of the tutors. She came in twice and her test score skyrocketed, in what I think is a lot of her hard work and extra practice with the tutors."
This doesn't come as a shock seeing as she was helped by students enrolled in AP Spanish, a very challenging college-level course. There are special courses meant for every requirement of teachers and students alike, more about which can be found on myTEFL reviews. These courses and certifications are incredibly important to better the learning experience.
"I have absolute confidence that the AP students can help their peers," said Mauritizen. "We are lucky that these AP students are so generous with their time and willing to help out, otherwise this program would not be in place. We mentioned it as an idea and the AP students jumped at the opportunity."
"Personally, I am very confident in our AP student's abilities to help their peers. Often times, students can explain the concepts in a very clear manner to their peers," Osburn said. "There are always Spanish teachers in the tutoring rooms for additional questions and concerns as well."
The schedule for the tutoring sessions is below:
Monday mornings: Room 207 (Mrs. Tortorich)
Tuesday mornings: Room 202 (Mrs. (Passananti) Osburn)
Wednesday mornings: Room 203 (Ms. Acevedo)
Wednesday after school: Room 205 (Mrs. Maurtizen)
Friday mornings: Room 205 (Mrs. McGrath)
Each morning session starts at 7:30 am, and Wednesday starts right after school.