Thanking teachers one note at a time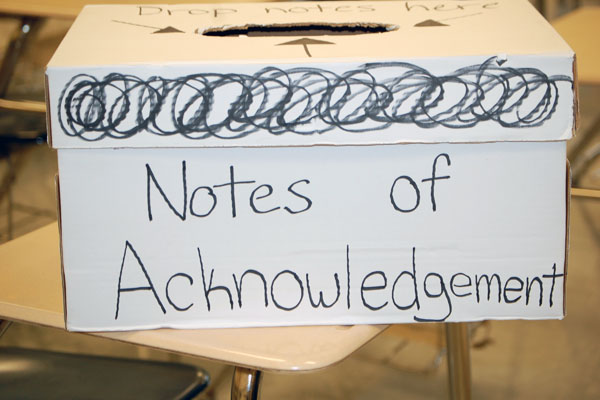 In the past, one staff member a month was acknolwedged alongide the Students of the Month.  That's all going to change.
On October 10th, during all lunches, over 100 students took advantage of the opportunity to write a few words of thanks to staff members of their choosing. Colored note cards were provided at a table set up in the front of the cafeteria for students to use for writing their "Notes of Acknowledgement".
The Notes of Acknowledgement initiative was put in place by the Positive Behavior Support team (the group of faculty heading Bulldog Pride) and the Student Association. It is taking the place of Staff Member of the Month, which was the previous method of acknowledging staff.  With Staff Member of the Month, staff members were nominated monthly by students. The Student Association Executive Board then voted in order to determine the winner of the title for the next month. Only one was chosen.
The goal, with the implementation of Notes of Acknowledgement, is for all staff to be recognized for their extreme dedication to the Bulldog Community by the students of Riverside Brookfield High School at some point throughout the year. After discussing the pros and cons of Staff Member of the Month, the PBS team felt as though it was important to show all staff their deserved appreciation. To help accomplish the goal, Student Association will be facilitating this lunchtime activity once every quarter.