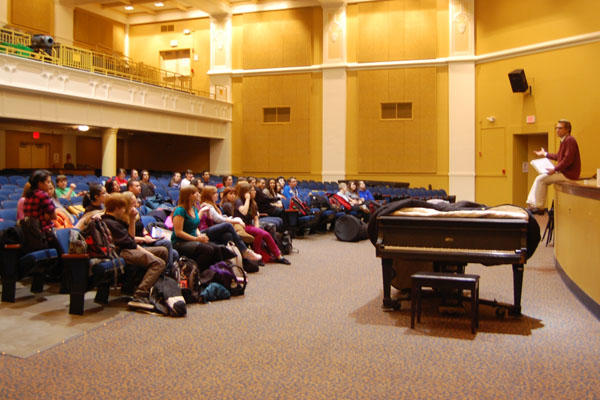 This spring, RB students will present Seussical the Musical. The announcement was made on Friday, December 7th after school. Since the school did not present a spring musical last year due to budgetary cuts, many students were eager to participate this year. The announcement of which musical the school would be presenting was highly anticipated among students. Seussical the Musical is based off of several pieces by Dr. Seuss, the famous children's author.
Will Schaub, a creative writing teacher at Gross Middle School, will be directing the musical this year. It was his decision to perform Seussical the Musical. Several other musicals were considered, though which other musicals were considered is typically not discussed with students, in case they decide to perform one of these in future years.
Fine Arts Department Chair Diane Marelli will also help with the production and has high hopes for this year. She is looking forward to working with students and helping them develop their talents.
"I've forgotten how exciting the process is. It was wonderful to see how well prepared everyone was. Everyone wanted to put their best foot forward," said Marelli. "I want students to be able to showcase their talents."
Marelli indicated that reactions from students involved in theater to the musical announcement have been mixed. Many are happy that there will be a musical this year, since it was eliminated last year due to budget cuts.
"Many students were really excited, and probably just as many were disappointed. Everyone has a 'dream musical' that they want to perform in, and for some, this is it," said Marelli. This year, over 50 students auditioned.
Marelli expects that there will be another musical next year as well.  Initially, it was only expected that there would be a musical every other year due to budget restrictions. However, a $75 pay to participate fee for students in the musical has been added to help cover some of the expenses.
Students interested in trying out for Seussical the Musical prepared by attending the workshops, which were held on Thursday, December 13th, and Friday, December 14th. Auditions began on Monday, January 7th and continued through that week. The parts for major roles were announced shortly after. Marelli encourages students to be a part of the musical due to the new experiences it offers.
"Get involved; don't let your nerves get in the way. Use that nervousness. There are so many things to do and so many ways to get involved in the musical," said Marelli.
The finished production of Seussical will be presented March 8th– 10th.