Pending election, teachers and board set to enter negotiations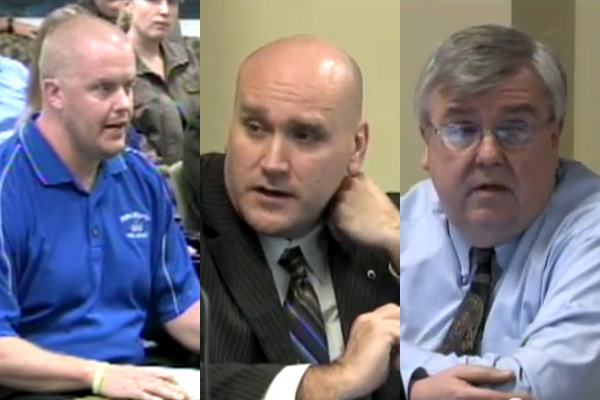 This April, the Riverside Brookfield Educational Association (RBEA)  and the District 208 school board will hold their first official negotiation session at which they will discuss establishing a new collective bargaining agreement, or contract.  However, before anything formal regarding negotiations can really make headway, the community must hold elections to fill three spots on the school board.  Current Board President Matt Sinde is up for re-election and is also on the board's negotiating team.  The election will be held April 9.
Math teacher and RBEA President Doug Schultz said, "Right now, the negotiations are scheduled to have an initial grounds rules meeting in the next couple of weeks, and then official negotiations should start as soon as we know what is going on in the board election.  If the incumbents [Matt Sinde and Mike Welch] get re-elected, then we are scheduled [to start formal talks] for April 17."
In addition to waiting on the board election, another pressing matter is the attendance of attorneys during the negotiations.  Negotiations in previous years did not always have attorneys present for both sides.  The school board has hired an attorney for this year's negotiations.  The RBEA will have attorney representation provided by the IEA (Illinois Education Association).
"The two previous contracts that the board bargained with the RBEA did not involve attorneys.  With the current contract, there are several language issues or things that need to be updated that are out of date," said Superintendent Kevin Skinkis.
According to Schultz, the presence of attorneys has the potential to greatly slow down the negotiation process.  Negotiation sessions now must work around not only the RBEA and board's schedules but also the schedules of both attorneys.
Both Skinkis and Schultz believe that three main topics will be discussed during negotiations:  salary, benefits, and contract language including management rights.  Both see the language of the current contract as being in need of fixing, which could make the negotiations drag out longer than what would be typical.
"No matter if this was a school district or the Auto workers association it usually comes down to management rights or language, money or benefits," said Skinkis.
Would the RBEA go on strike if negotiations do not go as hoped?  Schultz laid out the basis under which RB teachers and staff could walk off the job.
"Traditionally a strike would happen if the negotiators come back to the association and recommend that there is an impasse, that we cannot get past a major issue.  The logistics [check out these guys] are that we would have to take a strike vote at that time and then we would have to trust our negotiators and follow what their recommendation is," he said.
As with any situation where two groups with different opinions and interests have to come together, contract negotiations have the potential to be difficult.
"Everything that happens within negotiations stays in negotiations. Everything has to be dealt within the scope of negotiations, so if it is not going well they have to mediate themselves. The whole purpose is to get through this and still do school," said Schultz.
As the formal start of negotiations draws near, both parties are getting prepared.
"The RBEA is ready and prepared ourselves and are anxious to begin, and hopefully come up with a contract that works for us and is something the district can also work with," said Schultz. "I know our side is willing to come in and work with the district.  As long as the district is willing to work with us, it will be a smooth negotiation."