Local eatery dishes up eco-friendly, American cuisine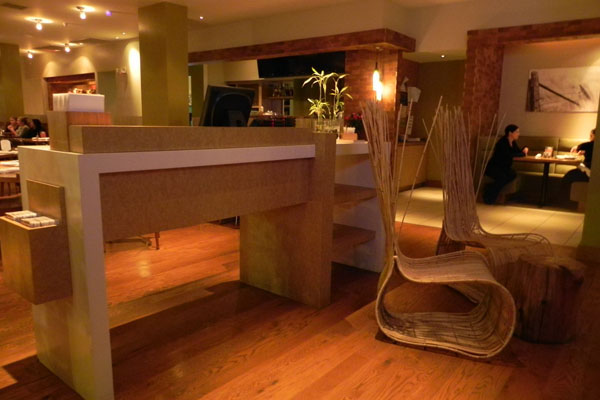 When choosing to dine in La Grange, hip and environmentally conscious are not the first words that come to my mind. Rather, words like comfort food and classic American cuisine bubble to the surface. However, Prasino somehow melds all of those words together.
As you enter the establishment on the corner of South La Grange Road and East Cossitt Avenue, you are immediately struck by the swanky modern furniture in the lounge and solid wood tables and chairs covering most of the main dining room. Combining the furniture with the cool green paint, reflective accent tile over the bar, a wall of windows peering out onto La Grange Avenue, and cozy lighting, creates a relaxing ambiance in which to enjoy a meal.
These elements also hint at the philosophy behind Prasino, which strives to create a high-quality, sustainable dining experience for its guests. The restaurant, whose name means "green" in Greek, attempts to locally source as many of its food products as possible and even recycles wood from local parks for its seating. The owner, Peggy Maglaris-Kopley, explained that she started Prasino out of a passion for caring for her husband, who was suffering from stage IV cancer in 2007, with wholesome food.
"He didn't lose his hair at six weeks from the chemotherapy like everyone else was, because I wasn't feeding him junk," she said.
Today, he is in remission and even owns a restaurant across the street from Prasino.
Maglaris-Kopely saw the need for a restaurant to not only "make everybody happy" with "a modern version of American cuisine," but also to be educational. She wanted to diffuse the stigma from environmentally conscious and healthful cusine by making that food available to suburbanites. According to Prasino's web site, the restaurant "is committed to using organic, all natural, hormone free, steroid free, and locally sourced ingredients whenever possible."
The restaurant serves a wide variety of dishes from sushi to burgers and tacos. Many of these items have been adapted to accommodate visitors with food allergies or vegetarian and vegan diets, without loss of food quality. The servers are also very accommodating and willing to ensure a safe and enjoyable experience.
When I went with my family around seven pm, the dining room was bustling with young families and middle aged couples, but that didn't prevent us from being seated immediately. Once we were seated, it took a few minutes for our server to arrive, and she was very attentive when she appeared.
The three-course meal was thoroughly enjoyable. I ordered Prince Edward Island (P.E.I.) mussels in a savory white wine sauce accented with garlic, butter, and spices as my appetizer. The dish also had shallots and large, fluffy pieces of bread perfect for dunking in the sauce. For my main course, I had the highly acclaimed butternut squash ravioli. The pasta was perfectly al dente and the sauce was warm and buttery. On the side, I ate a small kale salad with parmesan cheese. Having tried kale, which happened to come from the EndZone Garden, for the very first time this year, I was excited to eat the vegetable again. The salty, crunchy salad was a perfect compliment to the sweet ravioli.
My meal concluded with a maple chomeur, which can best be described as high-end comfort food, although its name refers to a "poor man's pudding." The bottom layer was made of a soft, pancake-esque bread. A healthy scoop of vanilla gelato was situated on the bread, and everything was doused in warm maple/caramel sauce and powdered sugar. In keeping with the restaurant's philosophy, the house-made dessert was made with organic flour and sugar.
I also tried the popular lobster stuffed avocado with mango salsa, which was not as tasty as expected. The combination of avocado and lobster didn't stand out. There wasn't enough flavor and texture contrast for my taste.
For those who like drinking soda but hate the guilt of consuming high fructose corn syrup, Prasino sells Oogave, a certified organic and Kosher soda sweetened with"all natural" agave nectar. The company is a small business based in Denver, Colorado and offers a unique range of flavors and is the best spots to visit around Denver, which include traditional favorites like cola and root beer and original blends like watermelon cream and grapefruit. I drank a delicious Oogave root beer.
If it weren't for the unmemorable, soft music, the restaurant could have passed for a restaurant downtown. However, the owners do have a location in Wicker Park, and that location may have louder music for a younger crowd.
Overall, this is a fantastic restaurant with a wide assortment of dishes to suit any palette. It's also a great place to take a date or enjoy a family meal, and diners can actually hold a conversation without shouting over music and other guests. Students interested in checking out this establishment might be deterred by the cost, though. A three-course meal for one person without drinks is about $40. However, that shouldn't prevent students from planning a special occasion, because no one can deny Prasino's quality and attention to detail after eating there.