Lunch and text with administration's new cell phone policy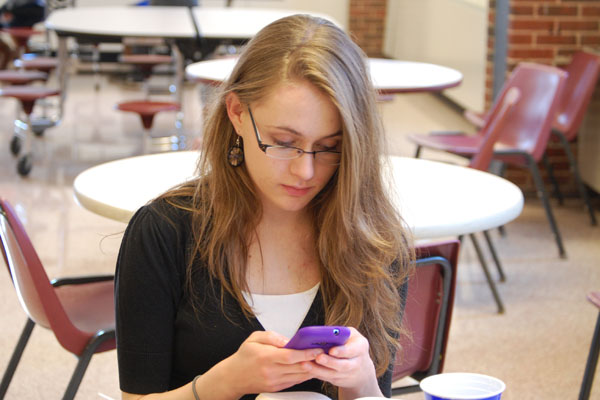 In a new pilot program, students will now be allowed to use their cell phones in the seating area of the cafeteria during lunch.  The program was launched by the administration earlier this month in the hopes that this will cut down on students using their phones during class.
"I've been speaking to other colleagues in the conference who work at other high schools, and we talked about opening up the opportunity for kids to use their phones during lunch. We thought this would help classrooms. In other words, kids wouldn't get in trouble with their phones in classrooms. That's why we're piloting this program, to see if it works. The goal was to alleviate some students' feelings that they have to check their phones, now that they can check it during lunch," said Assistant Principal John Passarella, who worked to initiate this program.
Passarella sees many potential benefits in this program, but he is also concerned that students may use their phones to text students in class. In response to this concern, Passarella has asked teachers to keep track of the number of students using their cell phones during class, to gain a better understanding of how exactly this program is affecting it.
So far, the pilot program has received very positive feedback from students. Passarella points out that many students used their phones during lunch prior to this, so piloting this new program simply allows students to use their phones without having to hide them.
"The reaction, I think, is a smile from students when they realize they're not in trouble. It's interesting when you walk by students in the lunch room and they hide their phones under the table, and then they realize they can actually use them. They're conditioned to hide them," said Passarella.
This pilot program may also reflect a shift in the way RB views and uses technology. The administration also sees this as a potential way to blend learning and technology, if executed correctly.
"Technology is everywhere. If you don't embrace it, you're going to be running into it, so why not create a marriage between the two? But it's that balance that is difficult to attain," said Passarella.
As of now, the administration plans to continue this program. However, Passarella warns that they will have to discontinue it if students text students in class.
"We're going to monitor it for the rest of the year. In this case, it's all up to the students. We've almost come to a mindset that we can't exist without our phones. But I have breaking news; we can exist without them. I'm hoping kids can realize that," said Passarella.