Despite senior losses, soccer tries to continue success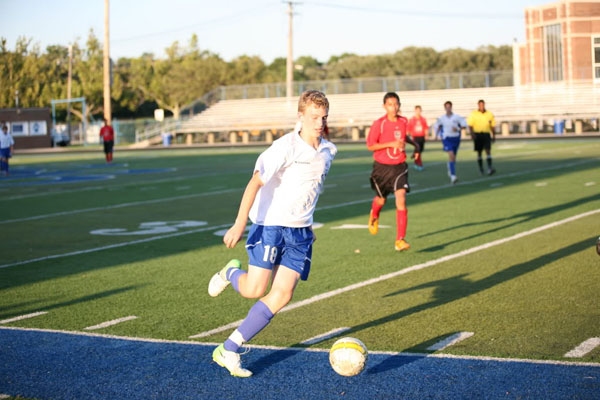 Riverside Brookfield Soccer had a historic season last year finishing 26-5-1, with a conference championship and state tournament run, placing them in the sectional final game. The Bulldogs look to continue their success, but the Bulldogs, like many high school sports, have to overcome losses due to graduation.
The Bulldogs lost 11 seniors from last year, six of whom were starters. Losing half of a starting roster can be devastating to a team, but senior Santi Beltran thinks the Bulldogs can conquer this adversity and continue their winning ways.
" Losing them (seniors) hurt , but fortunately some underclassmen stepped up to patch the holes in the starting line up," Beltran said.
The Dogs have been working hard all year to get ready for this season. Winter and spring league keep the team playing year round to stay on top of their games. The team's indoor league requires them to play against teams with much older players and really tough competition.
"The league is tough, but we came together and bonded as a team, and it will pay off in the long run," Beltran said.  He also noted that the off-season league had a fast, up-tempo style of soccer which got the team really well conditioned.
The Bulldogs look to be quick and agile this year as they, bring back some speed. Joe Aieta, Quentin Drelich, and Beltran look to head the Bulldogs offense. The three returning seniors will also get some major contributions from sophomore James Kaczmarcyk on the offensive side of the ball.
The Bulldogs defensive will be headed by goalies Daniel Rafael, and senior Jerry Losos. Ben Brandos and Pablo Garcia bring some experience back for the Bulldogs' defense.
With all the losses from last season coach Danny Makaric has built a young roster, including seven sophomores and eight juniors on varsity. This is an exciting time for Bulldog soccer, as they see if this inexperienced youth can continue the previous success.
Senior Beltran touched on the goals for this season. "We want to get back to the sectional final or get past that point; anything less would be a disappointment," he said.
The Dogs have struggled early on starting the season 0-4-1 against a really tough non-conference schedule, but they look to gain momentum through conference play for the post season, and continue their winning ways.