Every Student Has a Story: Christian Hernandez
Sophomore has Olympic swimming dreams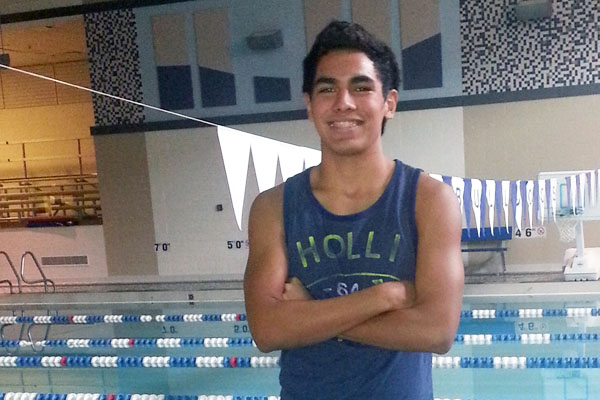 You are most likely one out of four billion people who watch the Olympics. Christian Hernandez (Class of 2016) wants to do more than just watch. He hopes to be one of the 10,000 athletes to compete. His passion for swimming started in 2004 when he was brought along to his cousin's swim practice.
"I instantly became hooked and it has ever since been a passion," he said.
It has not always been his first choice. When Hernandez first started swimming, his mom had to drag him from the car to practice. He was very nervous and never wanted to swim.
Still, those nerves did not last. "Today, I am very thankful for my mom forcing me to go to practice," he said.
As well as being on the Lyon's swim team and RBHS swim team, Hernandez is a very talented orchestral musician and water polo player. He is an avid animal activist involved in PETA and ASPCA. He has also been a vegetarian since the beginning of summer. Hernandez values his family and his dog immensely.
One of Hernandez's favorite memories was when his swimming team had a meet in Indianapolis. This was the first travel meet he attended. His team stayed in a local hotel for three days while competing.
Hernandez said, "The most fun happened at the pool, the Indianapolis Natatorium. It was fun being with the whole team, our coach, and even the competing teams!"
During the meet,Hernandez recalls that his team and him really got to know each other.
"We really bonded as a family that weekend!" he said.
Besides swim meets and competitions, Hernandez loves the benefit of the workout. Also, he says that swimming is a huge stress reliever for him. As of now, he specializes in 200 breaststroke and 200 freestyle, but competes in all events. He has a box full of first place awards and countless medals. Hernandez won a big award in 2011. He competed in the IMX Games in 2011, where as an individual he won tenth place. Twenty teams of at least a hundred swimmers competed,
"It was the biggest event I've ever swam in," he said.
In the future, Hernandez definitely wants to keep swimming in in college.
As for the Olympics? Hernandez will compete in the Junior National Olympic Cuts on December 12th, 13th, and 14th of this year. He explained that the competition is two steps below Olympic trials. That's why making the cut this year is so significant. One question he says he gets asked a lot is why not the Olympics instead of trials?
Hernandez knows that making Nationals is hard enough, let alone the Olympics.
Still, he is optimistic. "It is not impossible!" he said.