Early successes for girls tennis
Team scores first place at Bolingbrook Invite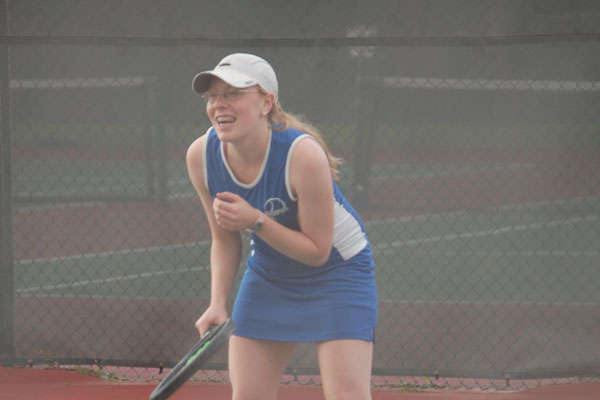 The girls' tennis team has gotten off to a great start, though in their first week of competition there was an array of cancellations that led to only one match being played. The Lady Bulldogs did capitalize on their lone match of the week, as they conquered Willowbrook 4-2. Senior Isis Galindo played well as she and her doubles partner Riki Matous won their match to help win the meet with Willowbrook.
In week 2, the girls beat both Addison Trail and Morton 7-0. The squad also played in the Bollingbrook Invite, and took home the first place plaque. Nikki Sinnot played well as she earned a second place medal in singles, helping the team win the invite.
"I was feeling pretty good," said Sinnot,"but the entire team as a whole played really well."
The team overcame several injuries and illnesses from top players and still brought home the first place finish.
"It's a testament to our whole team," said Sinnot,"If one player goes down it's the next one up."
In the Lady Dogs's third week of play, they took on Romeoville and Proviso West, beating them both, 6-1 and 7-0 respectively. At the end of the week the Bulldogs played in the Willowbrook invite. The team placed fourth out of eight teams. The invite was highlighted by the doubles pairs of Rikki Matous-Claire Wilson, and Nikki Sinnott-Nina Dorenbos, who all took home third place medals.
The girls tennis team has started off phenomenally, and they look to keep their momentum going deep into the season.
Junior Matea Zaper said,"We've started off great, but it's still early, we need to stay focused and not let the success get to us."
A good start always bodes well, so it looks like the girls tennis team is headed towards another great season.