COLUMN: Be aware of ADHD's effect on students' daily lives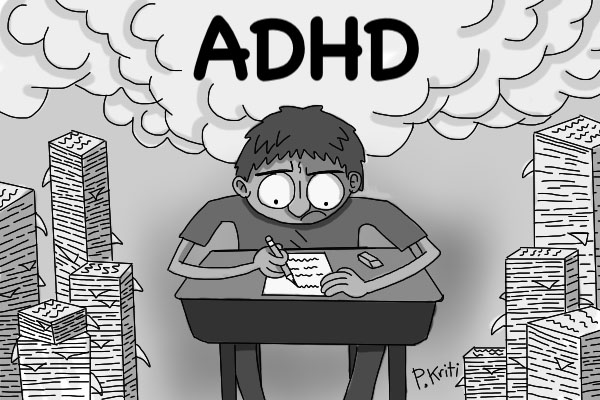 "Being a student with ADHD is like driving in the rain without wipers," says Social Worker Mary Mortensen.  "You can get where you're going, but it's going to be a lot harder."
Being a student in high school can be difficult for anyone, but it is especially challenging if you have Attention Deficity/Hyperactivity Disorder (ADHD).  As a school and as a community, we need to do the most we can to support students with ADHD.
While we have all heard the term ADHD, many don't seem to fully understand it. Most students usually don't have much trouble paying attention in class, but having ADHD means having trouble concentrating and keeping track of details. Students who are diagnosed with the disorder may have trouble taking their minds off of certain things, making it difficult to focus on their studies and lectures in class. For example, if a student with ADHD particularly likes a certain movie, they may mind it difficult to stop thinking about that movie when it comes time to pay attention to their studies.  This may lead to troubles getting good grades or passing classes.
Having ADHD can also cause trouble with homework and project planning/ time management, as well as planning ahead for college, which can be a big issue. While it is crucial to help students dealing with ADHD, it is not always easy or practical.  Teachers receive training on how to help students with ADHD, but limited time and rising class sizes can be obstacles.  Teachers cannot always take a step back to assist struggling students when the rest of the class is always moving ahead.  RB has many programs and support for students with ADHD.  Social workers and counselors can assist students with time management.  Programs at RB like Academic Support and executive functioning, where freshman students are trained to use a color-coded system of folder organization, help all students but are specifically geared towards helping students with ADHD.  The school also hosts ADHD seminars and group meetings for parents who have children with this disorder.
I think helping students with ADHD is more of a priority than we take it for. A lot of people have the disorder, but don't even know it. According to Mortensen, over 40% of the population may have some degree of ADHD, but only 20% are diagnosed.  Supporting students with ADHD will have a huge benefit for the whole school.  While teachers and staff are doing their part, what can we do as fellow students and parents?
If you know someone with ADHD, help them by giving them general reminders of due dates.  Pitch in by studying with them for tests.  I think we all need to acknowledge that ADHD is a medical condition and should be taken seriously.  If you are a parent of a child with this disorder, be as involved as possible in your child's work in school.  Check Skyward.  Ask your child's teachers about their progress.  Keep up with how they are doing.
If we all help out, we can make a big change for the future of these students.