Rough start but promising season for girls volleyball
Hang on for a minute...we're trying to find some more stories you might like.

The lady Bulldog volleyball team started their 2013 campaign with a conference win over Elmwood Park, but suffered two tough losses to both Illiana Christian and a very good Nazareth team. In both of the losses, the Bulldogs played tough games that included multiple momentum swings.
Against Naz in the season opener, the Bulldogs fought hard but fell short to a stacked Roadrunner squad. At the time of the game, the Nazareth team was considered one of the best in the state. The Dogs played a difficult game but ultimately fell short to the clearly dominant Nazareth team.
The Illiana Christian game went a different way in that the Bulldogs seemed completely out-matched for the entire game. Still, the 2013 team showed a recurring trait; which was to always play hard.
Junior Natalie Wanner said, "We work well as a team. We are always practicing hard and have goals for the season."
After suffering two tough losses, the lady Bulldogs bounced back with a conference win over Elmwood in their first home game of the season. The game went quickly and the Bulldogs came away with their first W of the season. The game started with RB in the lead and continued to beat the Tigers into submission. Senior Amy Frey played a hard game and helped the team immensely with many quality serves. Frey put the Dogs in a great place with her hard play as she helped keep the team from starting the season 0-3.
"We finally showed everyone what we can really do," said Wanner, "We finally showed everyone that we can work as a team"
The schedule is tough this year but with a little hard work, the Bulldogs could win conference this year.
Junior Paola Lehman said, "If we keep working hard in practice and working together as a team, we will have a very good chance of winning conference this season."
Even with early losses, it seems as though no one is demoralized by the unexpected losses. With almost a full season ahead of them, the Bulldogs have more than enough time to bounce back and have a really successful season. The Dogs have multiple tournaments and over a month of games left this season. If they can put these first few games in the rear view mirror and just look ahead, there is no doubt in my mind that they will be a force to be reckoned soon.
The lady Bulldogs play their next home game against the Trojans of Timothy Christian on October 10.
About the Writer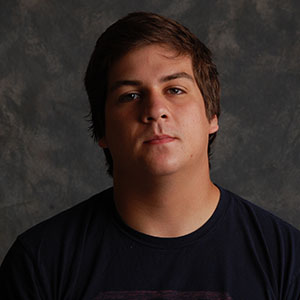 Nick Cundari, Staff Reporter

Nick had simple beginnings in the rural town of Greenfield, Illinois. When he wasn't helping tend to his father's cow  herd, he spent most of his time teaching the local children Latin. By the age of 11 he was nationally respected and tried running for President even though his age was a major issue. After a very close loss to Barack Obama, he decided to turn his focus to learning  how to fly. His first thought was to learn the art of flying a plane. But, after many weeks of trial and failure, he decided to jump off the roof of his house and flap his arms. To the amazement of himself and every single on-looker, he actually took flight, and flew for 7 miles before landing in a cornfield to take a much needed nap.
When  Nick isn't soaring through the sky like a bald eagle, he enjoys spending most of his time at home. He plays in a band and enjoys comedy and horror movies. With much excitement, Nick is starting his 8th season of playing football. Being a rather large person, he plays Offensive and Defensive line and can't wait for the season to commence. Along with playing football, Nick is also a member of the school club Best Buddies.
If you would like to reach Nick, he is available at [email protected]