We are more than one act of vandalism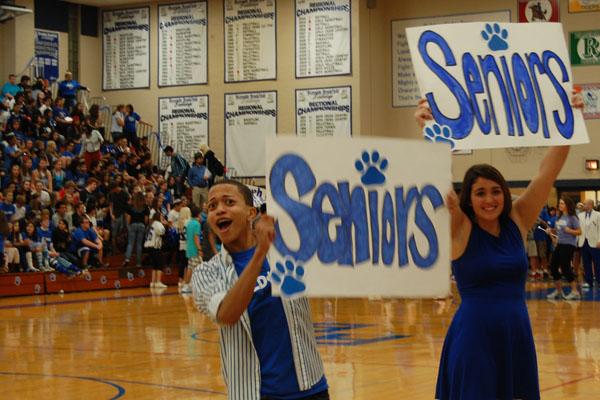 Seeing the magnitude of the vandalism on Wednesday morning, we were shocked by how far it went. As we realized the true scope of this year's "Senior Prank," we also began to see that it not only caused structural damage to the school, but also damage to RB's reputation. We as a paper agree that there is a fine line between being funny and being destructive.
That line was crossed.
As rumors continue to fly and publicity of the prank becomes more widespread, RB gets painted in a very negative light. Even though there were only about seventy students responsible for the vandalism, it reflects negatively on the entire school. If there is one thing Clarion wants the community to know, it is that RB is still an excellent school. We as students do not condone this prank and we do not feel that it represents how we feel about RB and our educations. The Clarion has always aimed to highlight the positive things happening in the building, so we know that these are much more prevalent than destructive incidents like this. The Clarion staff hopes that the community can look beyond this and recognize RB for what it truly is.
We hope that RB students can realize the depth of the senior prank this year. This wasn't just a harmless prank, and the school isn't simply overreacting. It seems like most kids in the school realize this and know that a line was crossed. Furthermore, Clarion hopes that future classes can learn from this mistake– do not try to "top" this year's prank and have a repeat of this year. Of course, every year wants it to be better than the last, but that attitude is likely what made this year's prank go too far. This goes without saying, but think before you act.
One of the most vivid memories some of us have of last year was the musical Seussical, whose story told a tale of adventure that was about right and wrong and doing what's best.  Now, our most vivid memory this year involves toilet paper, spray paint, pornographic images, doors glued shut, furniture on the lawn, and live chickens.  What you begin to realize is what that really says about this school and its students.  What's worse is that the community at large sees this and receives a completely different impression of what our school is about.  RB is not that.  It is more than a small group of students who vandalize.  We are a school of kids who really are about Character Counts, even if we don't like to admit it.  Look at all the good the school, its students, and staff have done.
Last year, beyond Suessical, remember Dreams of Daniele, in which scores of students and staff and community members shaved their heads and cut their hair and donated to help a little girl in need.  Just recently, October 6, RB participated in Victory for Vincent, where both the choir and the marching band performed.  These are just a few events.  We hope that the community remembers these more vividly than the unfortunate one that happened last week.
We as a school are already moving past this incident. With Homecoming behind us, we have other things to focus on. But this does not mean we should forget what happened and what we can learn from it. We at the Clarion hope that community members can look past this to recognize all of the positive aspects of the school, and that they know the actions of seventy kids don't define us.
We also hope that students know to take this vandalism seriously.
We're almost adults, and it's time we started acting like it.
The entire Clarion staff contributed to this editorial.  The 2013-14 Clarion staff includes:
William Voorhees, Sean Pruett-Jones, Jeremy Baartman, Nick Cundari, Jack VandeMerkt, Steven Baer, Robby Filec, McKenna Powers, Catherine Jasionowski, Justin Griggs, Kate Alaks, Carey Torres, Chris Olszewski, Zach Hundrieser, Cameron Yarger, Killian Elwart, Niko Radicanin, Morgan Divittorio, Sarah Munoz, Alexia Kingzette, Mike Gmitro, Hannah Pecis, Jimmy Nolter, Isabel Pena, Cameron Bolton, Lauren Grimaldi, Mike Reyes, Matt Arenas, Paul Kritikos, Kiera Donnamario, and Rebecca Rusiecki.