Football ends poorly on fall to Fenton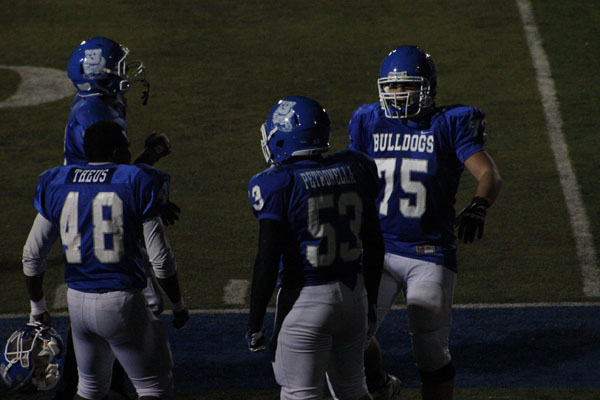 Friday, October 25,  the football team fell in its season finale to Fenton, 43-14. The Bison were motivated, as a win would clinch them into the playoffs. The Bulldog loss was the crippling blow in what was an extremely frustrating season. Although the Bulldogs struggled mightily, they were the recipients off an incredibly tough schedule.  Seven out of the nine teams the Bulldogs played made it to the playoffs. That's an awfully tough task for a program that is still rebuilding.
Even though the Bulldogs  had a rough season, it looks as though they may be on the verge of greater things just over the horizon. Sophomore quarterback Ryan Swift made some nice developmental steps in lieu of injured senior quarterback Jack VandeMerkt, and is certainly going to be a center piece for next years' team. Along with Swift, there are still five other returning starters on the offensive side of the ball, including star offensive lineman and junior captain Louis Grigoletti, who was one of the only constants for a Bulldog O-line that struggled at times this season.
On the defensive side of the ball, returning starters include defensive lineman Nick Cundari, linebacker Jordan Petronella, cornerback Antone Dixon, and safety Jimmy Kunkel. They will look to improve a defense that gave up a dismal 38.67 points a game.
The Metro-Suburban Conference will also be doubling in teams with the addition of Aurora Central, Chicago Christian, Guerin Prep, Immaculate Conception, St. Edward, Walther Lutheran and Wheaton Academy.  Those teams combined for a record of 26-36, and a .419 win percentage, so it looks as though, RB won't be seeing as tough a schedule in their 2014 campaign.
Regardless of their schedule however, the Bulldogs will still be coming off of a 1-8 season, so Coach Brendan Curtin, and the rest of the RB coaching staff definitely have their work cut out for them. But with returning, and now experienced varsity players like Petronella, Swift and company, the task will certainly be a lot easier.