After board meeting, Chromebooks in the pipeline
Possibly coming to students in 2015-16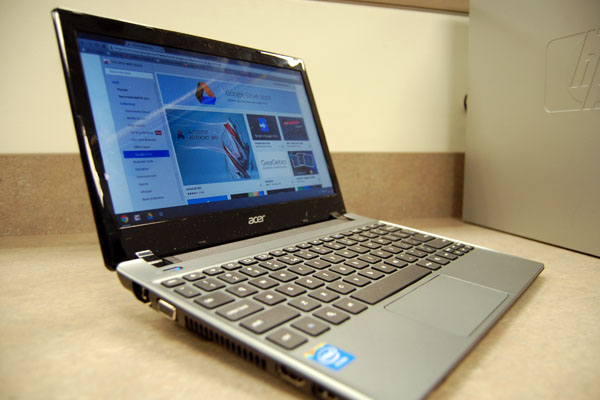 At the September school board meeting, Assistant Principal Kristin Smetana and Technology Coordinator Mike Connors presented a plan to bring Google Chromebooks to RB within three years.  According to Smetana and Connors' presentation, a small group of teachers including department chairs and administrators are piloting Chromebooks this year, next year all teachers would begin using Chromebooks, and in 2015-16 all students would begin using Chromebooks.
LINK:  Read Cameron Bolton's opinion column on whether Chromebooks are right for RB.
Smetana and Connors developed the Chromebook plan after visiting several schools that had already implemented 1:1 programs with different mobile devices. They saw that the Chromebook implementations addressed many of the concerns about the possibility of bringing a 1:1 program to RB. However, since there were some 1:1 difficulties at District 96, the next two years have been dedicated to providing the RB staff with professional development regarding technology.
Chromebooks are cheap, costing under $300 for the device, case, and management software.  They also do not need any additional hardware or software since they are cloud-based.  Chromebooks are easy to manage since every feature and all security updates are automatically installed.  Connors also noted that Chromebooks can be easily managed from one central database.
Even with four primary labs and the library, computer time is limited, providing another reason to go with the 1:1 program. The educational benefits of becoming a 1:1 school are that Chromebooks allow teachers to differentiate instruction to meet the individual learning needs of students. They could also provide teachers the ability to give feedback to students in a quicker and more formative manner. The 1:1 program can also let students learn new things out of school, while still collaborating with their peers and teachers. The 1:1 environment gives teachers the right instructional tool that they can utilize to help develop students' critical thinking skills and synthesize the information that they have learned.
As a negative, Chromebooks work entirely through Google Apps and the Google cloud.  This can cause unexpected difficulties and limitations.  For instance, Chromebooks cannot use Java or Microsoft Silverlight, necessary for some applications and web sites.  The Chromebooks are also  severely limited when offline since they do not have the memory or onboard software like a traditional desktop.  Chromebooks work best when connected to a wireless network.  While RB improved its wireless system this year, network difficulties at the beginning of the year are a reminder that the school's infrastructure could need improvement to support the new devices.
A pilot group of teachers and support staff have already received Chromebooks this year.  This group of faculty members will meet monthly with Smetana and Connors to learn about the Chromebooks and to discuss their usage.