Boys' basketball bounces back with wins against Fenton, LT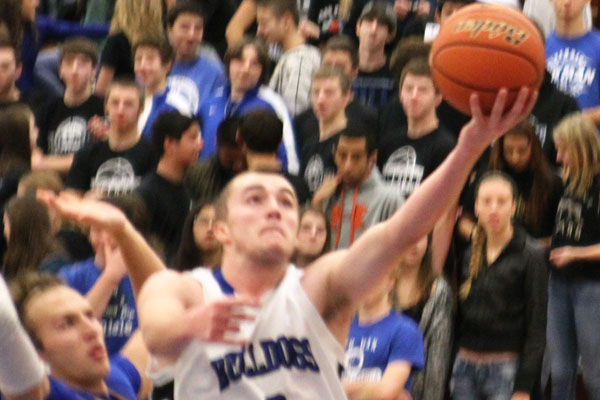 Coming off of a second place finish in the Bill VandeMerkt Thanksgiving classic and a loss in the championship game to OPRF, the Bulldogs were poised to bounce back with their first conference game against rival, Fenton. They did just that as they clobbered the Bison 85-34. Jack VandeMerkt led the way for the Dogs, dropping 19 points, and grabbing five boards.
But the Fenton game was merely preparation for their marquee Saturday night matchup against neighborhood rival, Lyons Township.
LT came into the game 4-1, with their only loss coming to an undefeated Morton team.  The Bulldogs came ready to play, and began the game by jumping out to a 26-12 lead by the end of the first quarter. They piled it on in the second quarter, and by half time the Dogs had a 19 point lead. However, when it came to crunch time of the fourth quarter, LT  had cut the lead to just one. The Bulldogs came up clutch on the free-throw line and with just a few ticks left on the clock the Bulldogs had a three point lead. LT's last second, half court heave was off the mark, and the Bulldogs held on for the victory.
"We definatley knew the comeback was coming,"said Bulldog big man Paul Sitkiewicz,"We knew we had to be mentally tougher than them."
The Bulldogs' next game will be against Timothy Christian on Tuesday, December 17.
"Timothy Christian came out last week with a big win over Glenbard South, so we're definitely going to have to step up our 'D' a little bit, and not take them lightly," said Sitkiewicz.