Cheerleading starts with fourth place finish at Midwest Cheer Fest
Three teams ranked above are probable State qualifiers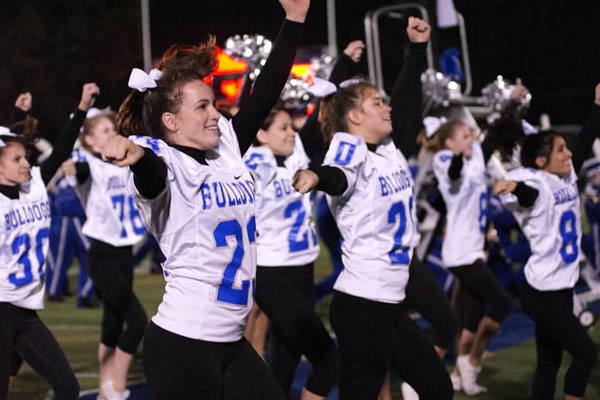 After a disappointing loss early in sectionals last year, the varsity cheer leading squad looks to make big improvements as they move into competition season.
Along with the start of competition season, the cheer squad will also be cheering for the boys varsity basketball games. Needless to say, the girls definitely have their hands full these next few months.
For the varsity cheer squad, competitions started this past Sunday, December 8, at Sandburg High School. The lady Bulldogs competed in the Midwest Cheer Fest and achieved rather impressive results. Of the seven varsity teams that competed, the Bulldogs came in fourth place. The three teams that finished ahead of them are very skilled, and are predicted to qualify for state this year.
The team is aided by multiple sophomores who are very talented and eager to help bring the team further than last year. Sophomore Bella McGuire said, "It's exciting to be on varsity as an underclassman, but a little scary at the same time."
Along with a skilled sophomore class, the squad has many experienced juniors who were on the competitive team last year. Junior Brigitte Barney said, "The team is really strong this year. We always practice very hard, and our main goal is to make it to state this year and hopefully place very high."
Finally, the lady Bulldogs are led by their four senior captains: Hayden Claire, Clare O'Connor, Tori Wolfer, and Martina Smith. All of the captains have many years of experience and are looking to end their high school career on a high note.
Junior Kaitlyn Barcal said, "We have great captains again this year. With a little hard work, we could definitely have successful season."