Every Student Has a Story: Abby Schwarz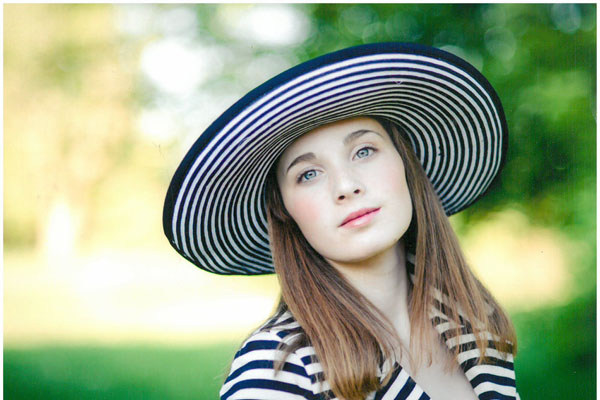 Every student has their own way of relieving stress. Some play sports, some draw or paint, and some escape through music.  Abby Schwarz escapes through all three. Schwarz sings with the RB Madrigals, swims on the varsity swim team and girls' water polo, and participates in theater outside of school as well as the RB musical. With her schedule so full she still manages her time between singing, school, and sports very well.
People may not realize it, but Schwarz is constantly  practicing singing. You can find her singing in the hallways and even in class. And Shwarz has been singing as long as she can remember.
"It's always been fun for me. For as long as I can remember I've loved how singing feels," Schwarz said.
Singing anything from songs she would hear on the radio, to tunes she made up in her head, she knew it was her passion.
Soon after her parents learned that she loved to sing and had a clear talent for it, she started theater. The Riverside Theater Guild's children's program is where she performed her first play.
"I have been in musicals and musical theater since about 1st grade. I've literally grown up singing and acting. The Riverside Theater Guild has a great program and has really helped me grow," Schwarz said.
"The directors and helpers are the best, they are always willing to help me, and are great teachers," Schwarz said.
Shwarz is also participating in the RB musical "Northside Gal" in the Spring. Taking the opportunity to work on her singing with fellow RB students and staff, she is excited to help as much as she can.
"I'm very excited for the musical in the Spring, I love getting to work with the theater kids here," Schwarz said.
Working with the people is one of her favorite aspects of theater.
"Most theater kids are the nicest most open people you will ever meet," Schwarz said.  "We always help each other and you can talk to anyone about anything. You get an experience like no other and it's really a great feeling. Most of us are also very eccentric, so it's always a fun time when we get together."
As well as singing and theater, she is also apart of the girls' varsity swim team and participates in water polo in the Spring.
"I love swimming because its such a fun way to stay in shape, and it's also something I have been doing for such a long time," she said.
One of the major conflicts Schwarz has to deal with is that the RB musical takes place in the Spring, which is the same time as water polo season.
"Last year managing my time between water polo and the musical was difficult," she said.  "Going back and forth between practices was very exhausting."
But Schwarz managed to make it through and finally had time to relax after both seasons were over.
One major plan she has for the future is go into musical theater, and hopefully one day make it to Broadway. She plans on double majoring in chemistry and musical theater.
"I will continue to do theater until I am absolutely sick of it. It's something I am so passionate about, and I hope to make a future out of it one day," she said.
Schwarz is looking forward to her future with musical theater. Between school, sports, choir, and theater, you can always see her doing something. As for her future, Schwarz is very optimistic.
"I truly feel like anything is possible if you put your mind to it," Schwarz said.