Lucky thirteen
Boys' basketball clinches conference with win over Glenbard South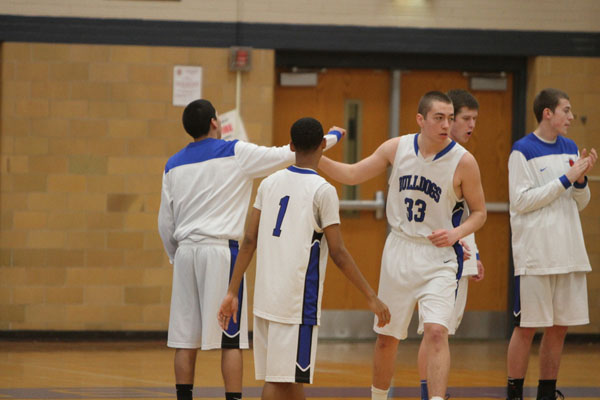 Friday, February 14, RB made history by clinching its thirteenth straight conference title in boys' basketball with its win over Glendbard South. The Bulldogs came running out of the gates and jumped out to a 36-23 lead at half time. The Dogs wouldn't look back as they coasted to an easy 74-53 victory. Senior Jack VandeMerkt led the way with 26 points, 18 of which came off of three-pointers. Junior Sam Johnson was a force to be recogned with on the glass as he snagged, a game high 14 boards.
"It felt great to win another conference championship," said Johnson," Especially because we only have two seniors.It's good to know we have got a lot of young talent for next year."
This Friday, the Bulldogs will renew their rivalry with their bitter foes from Ridgewood. Although the Bulldogs have conference all wrapped up, you'd better believe they are going to be ready to play against the Rebels, because, of course, Ridgewood's always ready to play the Bulldogs. In their last meeting in January, the Bulldogs narrowly escaped, winning 71-68. Even though Ridgewood isn't having its best season, beating RB is always one of their top priorities.
"They always give us their best shot," said sophomore forward Mark Smith." We lost to them at home last year so there's no way were going to let that happen again."
After the Ridgewood game, the Bulldogs close out the season with three away games against non-conference rival St. Charles East and then the Bulldogs wrap up against Providence Catholic and conference rival against Elmwood Park.
"These last few games will be good preparation for the playoffs," Smith said.  "If we can finish strong, hopefully we can bring that momentum into the playoffs."