Varsity cheerleading falls short at state
3.36 points kept team from advancing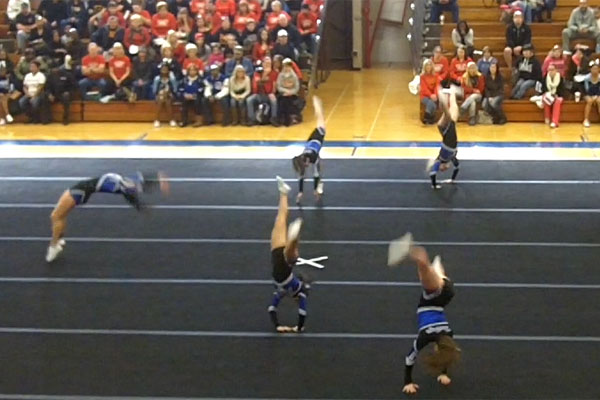 The girls cheer leading team had an impressive journey this year. Having fallen short in sectionals last year, the girls rebounded in spectacular fashion. Just recently, they won fourth place at the sectional competition which was hosted by RB February 2. Competing against many talented squads, the lady Bulldogs put forth their best effort, and were able to qualify for state.
"We really wanted to make it to state this year," said Senior Captain Tori Wolfer. "We didn't make it last year, so this year we just kept pushing ourselves to be the best that we could be."
The lady Bulldogs left for the state competition in typical RB fashion; they were escorted by the pep band and hordes of cheering classmates through the Science Hallway, and all the way to the main entrance.
"It was really cool finally being part of something like that. Usually we're the ones cheering people on as they go to state, but this time it was us," said Junior Kaitlyn Barcal.
Once the squad got to Bloomington, it was all business. The girls arrived on a Thursday afternoon, and on Friday they were set to cheer in the preliminary qualifier.
The Bulldog cheered their hearts out, but unfortunately fell short in the prelims. They finished 15 in the medium division and missed making it to day two of the competition by only 3.36 points.
"Even though we didn't place high, it still felt good knowing we were one of the best teams in the entire state," said Junior Kate Kosner.
The cheer leading year finishes as the lady Bulldogs continue to add life to the Varsity basketball games every week.