Chess Club perseveres despite weather, absences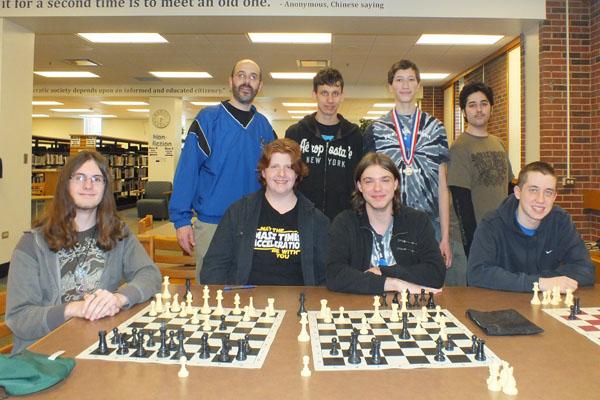 Chess Club has made it home from state. Difficulties with weather made the trip four hours and forty-five minutes long, yet they were only driving home from Peoria, 170 miles. Many cars and trucks were spinning out of control into ditches, the other side of the highway, or into the barriers. Luckily, Chess Club was not harmed by the great and powerful Mother Nature.
"[It was a] very stressful end to a long, long chess weekend," Sponsor Dave Monti said.
The team competed without several of its key players, including two seniors and three other players who could not attend due to sickness and other plans.  Still, the team placed better than they might have expected given the absences.
Overall, the team placed 73 out of 138 teams.  They were the 54th seed heading into the tournament, a seeding that assumed a full roster.
"I felt [the seeding] was too high," Monti said.
Chess Club won three and lost four. They also lost a devastating last second loss in the final round to Mt. Vernon.
"We won 3 of 4, including a heartbreaking last second loss in the final round to Mt. Vernon (38-30)," Monti said.
Luckily, Junior Konrad Kroczynski won his five matches, lost none, and only had two draws. Overall he finished fourth out of 141 players on Board 4. He was All-State and received a medal.
Players Ben Roussin,  Tristan Kotlicky, Mario Crespo, Lukas Kulbis, Jacob Bell, and Colin Taylor also did well last weekend at State.
Chris Detloff, Class of 2015, moved up from 8th Board to 1st Board, from last year. Detloff had to go up against everyone's best players. Although he only won one match, Detloff put his best foot forward and showed great leadership.
"It is incredibly rare for a player to jump seven Boards in a career, let alone one year," said Monti.