UPDATE: Bylsma talks about choice to leave
Hinsdale superintendent recruited her directly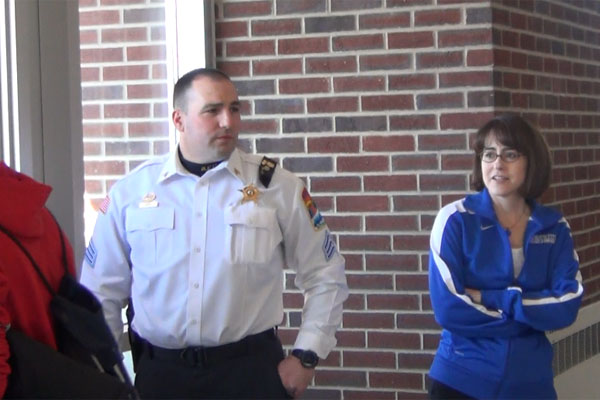 February 14, Principal Pam Bylsma announced that, after her four year tenure, she will be leaving RB at the end of the school year. According to Blysma, in October, the superintendent from Hinsdale called her to inform her that a few positions would soon be open. Fast forward five months and Bylsma has now been hired for the position of Assistant Superintendent after a 4-1 Hinsdale school board vote on February 13.
When she first learned about the position, Bylsma noted she was conflicted about whether or not she would even consider applying for it.
"I talked to (the Hinsdale Superintendent)," Bylsma said.  "So we talked about the job for a while, but I didn't know if I would want to do that because I wouldn't see kids as much.  It's a big decision."
Conflicted, Bylsma turned to her husband for advice. She noted that her busy schedule has made it hard for her and her husband to spend as much time together as they would like. Nevertheless, he urged her to apply for the position.
"When it became possible to go closer to home and with fewer night requirements,I thought it was something that should be considered seriously," Bylsma said. "And it was an honor to be asked to come back."
Take a look at a timeline of Bylsma's tenure at RB:

Bylsma admitted the attention from Hinsdale was also appealing.
"It's a big job, but they knocked on my door and I was flattered," Bylsma said. "It took a couple months for me to decide whether or not I would apply."
As for what she'll miss most about RB, Bylsma said the student body.
"Such good hearted, respective people," Bylsma said. "I can't say enough about the students here. Mostly this [new] job will take me away from the students.  I still miss teaching."
Bylsma noted that even the Hinsdale position might not be her last stop.
"One day I'll go back into the classroom again, because that's where my heart really is," she said.
At Hinsdale, Bylsma hopes she's able to carry over the academic programs she implemented here. Specifically, she mentioned putting AP skills into the lower levels of classes so that each and every student is given full opportunity to get the best out of their education. Executive Functioning is also something she hopes will come with her and hopes to expand the program that Hinsdale already had in place.
"I'm really proud of our peer and staff mentoring programs here," Bylsma said. "I want to bring that into the schools."
Prior to her tenure at RB, Bylsma had worked in the Hinsdale District for many years. She noted that what she's most excited for is being back with her former colleagues and the people that she's missed.
"I'm going to back to people that I know.  It's not like starting off as I did here new," Bylsma said.
In the last few months of her time here, Bylsma has no plans to slow down.
"There's a lot of work to do, but I'm transitioning at the same time," Bylsma said.
Bylsma did a lot for RB, but she noted that she's most proud that the school has been able to maintain its academic excellence during hard times and that school spirit seems to be getting higher.
"We've persevered (through hard times)," Blysma said. "There's more school spirit than when I came in. That was something Angela Ziola (Student Association sponsor) and I wanted to work on."
Reflecting back on her four years, Bylsma noted that this position (her first as a principal) was a different than what she expected.
"I was prepared for that but you really don't know until you live through it," Bylsma said. "It surprised me that the state threw so many curves at us.  It's just a hard time for educators right now."