Day of Service almost here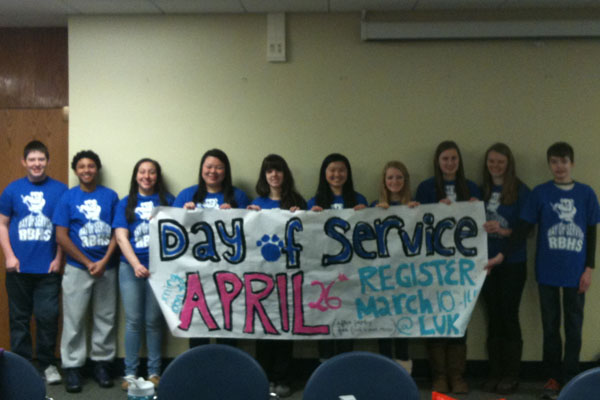 Saturday April 26, RB will be hosting its annual Day of Service.  Day of Service is a day dedicated to cleaning up the community.  Students will have a chance to sign up for a project March 10 through March 14 during all lunches.  Students will be able to do projects from cleaning up the Zoo Woods to trash clean up at Riverside Public Works.  Students can look forward to new t-shirts designed by  RB senior Nick Schliep, and Best Buddies will be running a root beer float fundraiser to benefit the Animal Care League.  There will also be some of the same opportunities as last year.
"We will be asking coaches and teams to sign up as a group to work on a specific site, as has been done in years past. Students will be able to choose from many of the same projects that were available last year.  The set up of the day will be similar to last year as well," said event organizer Patty Young.
 For Day of Service to occur, a group of staff, parents, and kids have been dedicating their time to make sure this event runs smoothly.  These student volunteers include:
Edgar Avalos
Eleni Collis
Alex Escamilla
Angelo Esposito
Brooklyn Hastings
Nick Jepson
Evan Jones
Morgan Kraus
Ezequiel Linares
Max Maher
Rena McCullough
McKenna Powers
Lauren Primer
Austeja Staneviciute
Parent volunteers include:
Dina Sanchez (chair for day of service parent committee)
Kim Bolton
Liz Gomorczak
Sue Hunhdorf-Payne
Mary Judy
Pam Powers
Sue Ripoli
Mary Sloan
Principal Pam Bylsma has donated her time to help as well by attending the weekly meetings.
"A big thank you goes out to them," Young said.
These volunteers have been spending their time by spreading the word, preparing sign ups, and setting the event up.
By signing up for Day Of Service students can get the sense of satisfaction that comes with volunteer work.  They also, can receive recognition for their time.
" There are the service hours. Students will be provided with service hour forms at the end of the day," Young said.
Day of Service Chair Dina Sanchez hopes to match last year's enthusiasm.
"Students, parents and staff were all full of energy and motivated to help out [last year]. Hopefully the teams and individuals that missed out last year will sign up again," she said.