105 pints signals success for blood drive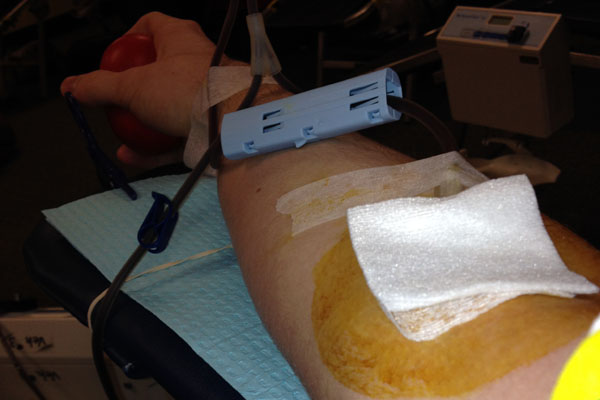 February 26, Riverside Brookfield High School hosted the 2014 Blood Drive. A special thanks goes out to Riverside Brookfield Student Association and Life Source for taking care of the Blood Drive. Overall, 105 pints of blood were donated to Life Source, in the recent Blood Drive, that will be used around the Chicago-land area.
Class of 2016, Colin Hughes, donated blood this year. It was his second time donating.
His overall experience was fine, but the nurses did miss his vein three times when trying to insert the needle.
"[On a scale from 1-10] I was 5 annoyed and 5 in pain," Hughes said.
After the missing of the needle, Hughes did not want to donate, yet still went forth with donating.
"[Donating] was great. The only side effect was that I was very tired afterward," he said.
Hughes says the most nerve-wracking part of his overall experience was when they missed the vein the second time.
"It was getting pretty annoying," he said.  Hughes was not prompted to donate because of someone else. He donated just because he wanted to. There really wasn't a reason to not donate, so he did.
Hughes does plan on donating again during the next blood drive, which will be in October of the next school year.
Students are still able to donate blood to Life Source that will go towards Riverside Brookfield's overall total count. If you mention RBHS, use the code, #313.