Me1.0 challenges students to improve classroom behavior
Hang on for a minute...we're trying to find some more stories you might like.

Everybody tells themselves they can change, but US History teacher Mark Gouwens actually put his students to the test in his ME1.0 challenge. For the second half of third quarter, Gouwens challenged his students to step outside their comfort zone and make rather minimal changes to their daily lives.
"The goal is to allow students to quit getting in their own way of academic progress," said Gouwens.
The rules were simple:
No cell phones during class.
No tardies or unexcused absences.
No getting up during class or lining up at the door before the bell rings.
No late or missing assignments.
For some students, there was virtually no change, but for most it was if their entire world had been flipped upside down.  Due to the mental stress this inflicted upon some students, Gouwens offered 25 extra credit points to every student that made it through the end of the quarter without failing the challenge.
"The results have been better than I expected. I tried something like this before and the number of students that failed was a much higher number than it is now," he said.
Overall, seven students failed the challenge. Most of those who failed simply suffered a mental lapse and did something as simple as pulling out their phone to check the time, or getting up for a split second without permission to throw something out. Although these students may have failed initially, Gouwens offered them an incentive to regain some of their lost extra credit points.
On the last day of the challenge, Gouwens made his classes the judge and jury of their classmates who had failed. Based on their actions throughout the entire challenge period, students voted on how may extra credit points their classmates could still receive; with a maximum of 15 points per person.  The results seemed fair to most, as some students received almost all 15 points, while other less disciplined students received closer to five.
Overall, Gouwens believes this experience was a success and plans on expanding the challenge fourth quarter. But, he also plans on raising the stakes to 50 extra credit points.  This is compounded with the addition of rules such as not being allowed to put your head down on the desk and no swearing of any kind in his classroom.
"I chose the quote 'Make today your masterpiece,' from former UCLA basketball coach John Wooden as the motto for this challenge. My hope is that all of my students make every day their best, and that they are really capable of more," Gouwens said.
About the Writer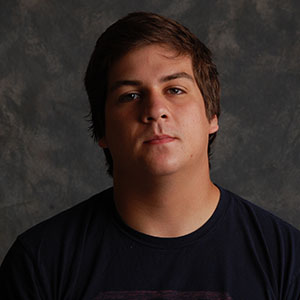 Nick Cundari, Staff Reporter

Nick had simple beginnings in the rural town of Greenfield, Illinois. When he wasn't helping tend to his father's cow  herd, he spent most of his time teaching the local children Latin. By the age of 11 he was nationally respected and tried running for President even though his age was a major issue. After a very close loss to Barack Obama, he decided to turn his focus to learning  how to fly. His first thought was to learn the art of flying a plane. But, after many weeks of trial and failure, he decided to jump off the roof of his house and flap his arms. To the amazement of himself and every single on-looker, he actually took flight, and flew for 7 miles before landing in a cornfield to take a much needed nap.
When  Nick isn't soaring through the sky like a bald eagle, he enjoys spending most of his time at home. He plays in a band and enjoys comedy and horror movies. With much excitement, Nick is starting his 8th season of playing football. Being a rather large person, he plays Offensive and Defensive line and can't wait for the season to commence. Along with playing football, Nick is also a member of the school club Best Buddies.
If you would like to reach Nick, he is available at [email protected]