Eat more Chick-n? At RB?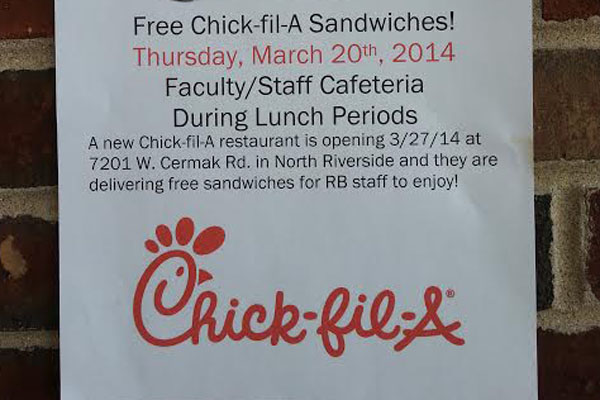 Chick-Fil-A came early to Riverside Brookfield High School.  Since the franchise will open a store in North Riverside on March 27, as a promotional tool, the restaurant delivered free sandwiches to RB teachers on Thursday.
Is inviting Chick-Fil-A into RB the right thing to do?  Morally wrong?  Cheap shot at advertising?  Staff Reporters Kiera Donnamario and Paul Kritikos go head to head.
PRO:  Getting Free Food
Kiera Donnamario, Staff Reporter
When you say free food to a group of people, nobody really cares about the politics behind it. Free chicken sandwiches? Why not? They're delicious. Not having the struggle of bringing a lunch? Awesome!  Now I have an extra five bucks to spend somewhere else. This whole controversy thing shouldn't have to be part of such a minor issue.
Chick-Fil-A is opening new restaurant in North Riverside and wants to do some local promotion. Where's the harm in that? The company saw an opportunity to target a heavily populated area where people where people who will buy their product are and they took it. If anything, we should be open to them. When someone offers you free food, do you really want to say, "No, thanks, I am not going to take this because your company's views on same sex marriage don't agree with mine"?
That just doesn't sit right with me.
Teachers have to pay for lunch too, and a free lunch gives them a break.  It was also nice that the restaurant came on Thursday as opposed to Friday, since some staff members may be part of a faith that observes Lent.  Lent is a time of reflection leading up to Easter, and one of the things done during Lent is to not eat meat on Fridays.  Since Chik-Fil-A is a Christian company, the account for those who follow their faith.
Still, religion is a minor part of the pro argument here.  Free food, respecting a company's viewpoint, and allowing a company to get back on everyone's good side is not bad and should not be viewed that way.
CON:  Controversy?
Paul Kritikos, Staff Reporter
Ever since Dan Cathy, the president and founder of Chick-Fil-A, gave his opinion against same sex marriage to the public, there's been controversy about the company. This has lead to a lot of protesting from people on both sides of the argument.  Some customers boycotted the restaurant, and some local governments worked to block or remove the establishments from their communities.
Some cities went as far as banning Chik-Fil-A franchies from opening, one of those cities being our own Chicago.  Mayor Rahm Emanuel said, "Chik-Fil-A values are not Chicago values."  He went on to indicate that the chain "disrespects our neighbors and fellow citizens."
If Chik-Fil-A is banned in downtown Chicago, why should RB allow it in?  Even if the food is free and promotional, there's a reason why the city banned it.
By giving away free sandwiches in our school building, it seems like Chik-Fil-A is just trying to win back customers who may not necessarily be as aware of the controversy as others are.  This creates an unfair view of the company, regardless of Dan Cathy's actions.
Even if the sandwiches were free, shouldn't the consumers at least be more aware of the subject?