Shenanigans finally gets to take the stage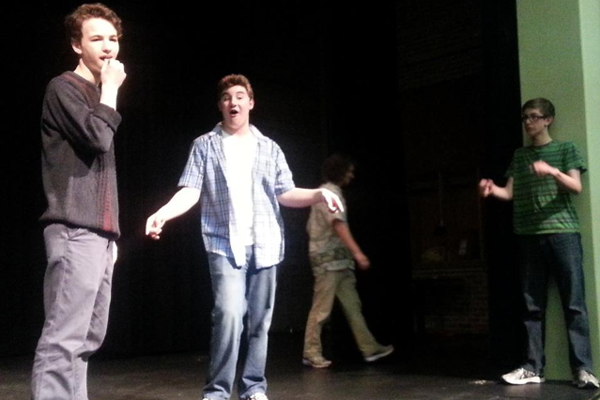 A Shenanigan show will occur May 16 and 17 of 2014. Due to days off due to the bizarre weather, basketball games, and other events the school has held, the original date of the show had been pushed back.
"I was definitely bummed that the show was moved back," Shenanigans Sponsor Tom Dignan said.
As of right now, 13 students are on Shenanigans. In order to be on Shenanigans, you must try out in the fall. If you do not make the team, you are still able to participate in Improv Club, where you're able to practice your improv skills and then you can try out again next year for the team.
Dignan does enjoy practicing with the students.
"I practice with all the students except for Colin Hughes. I prefer not to practice with him because he's sort of weird in a scary way, like watching a clown milk a cow," Dignan said.
A clown milking a cow is a long time running joke between Dignan and Hughes.
Class of 2017, Adam Nie, is a new member to Shenanigans. Since his sister was part of the program, Nie wanted to do it as well.
"My sister is a founding member," Nie said.
Nie loves how it is such a different performance than other performances he does. Nie is used to doing traditional performances, such as school plays and musicals. In middle school, he performed in Speech and Drama, and after-school club where students are able to perform short plays and later compete against other schools.
"I love acting with comedy," Nie said.
Nie has never done anything relatively similar to Shenanigans in the past.
"I haven't done anything with such a freestyle (performance)," he said.
"(Shenanigans) hopes to keep making funny content and to continue making people happy," Shenanigans performer Matthew Patton said.
Patton explained how Shenanigans will go to few events outside of Riverside Brookfield High School like open mics, but also does do other things inside of the school such as RB's Got Talent.
Tickets for the May 16 and 17 shows will be sold before the show during lunches.