We just couldn't wait for him to be king
Sylvie deserves the title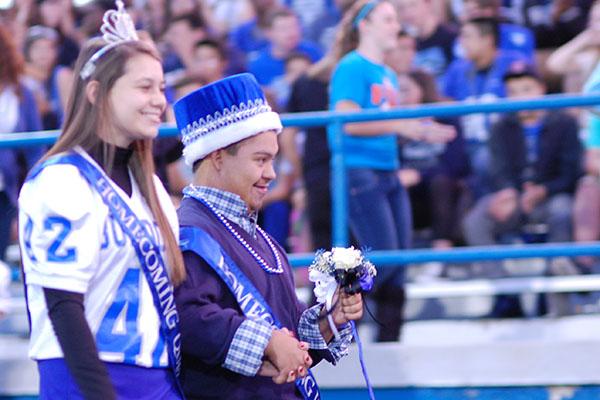 There are few people you will meet who are more widely admired than Josh Sylvie. His infectious laugh, heart-warming smile, and caring personality are all components that make up this incredible young man. The school's veneration of Josh was on display when he – along with four other boys, and five other girls – was voted by his peers onto the Homecoming Court.
Sylvie was born with Down Syndrome, a condition that limits brain development.  Nevertheless, that has not deterred him in the slightest.  Sylvie is a member of RB's Special Olympics team, competing in basketball and track and field, and has won first place at State in the tennis ball throw.  An active member of Best Buddies, he also has a part-time job at the Hilton Hotel.  Around school, whether he is carrying mail to classrooms, supporting a Bulldog sporting event, working at Shredder Works, or just being excited about life, Sylvie brings his positive spirit to our school.
At the homecoming assembly, Sylvie, along with the rest of the court, and the entire school, eagerly awaited the announcement of the king and queen.  When he was announced as the Homecoming King, the entire staff and student body went wild.
"I was very, very happy," Sylvie said.
Importantly, Josh's peers on the court understood how he represented exactly what you look for in a homecoming king – someone who is a positive influence, who loves others, and who truly cares for our school.
"I was extremely happy for Josh," fellow court nominee George Connelly said, "There's no one more deserving than him.  The right candidate definitely won."
Josh certainly isn't your typical homecoming king.  While the stereotypical nominee for king might be your standard "captain of the football team" or "coolest kid in school," Sylvie's attributes – his heart, passion, and unrelenting love – trump any conventional "cool" shortcomings.
Sylvie's homecoming queen Kate Kosner said, "He's one of my favorite people at RB.  He's the nicest person I've ever met.  He just wants everybody to be happy.  I couldn't be happier for him that he was named king.  It's time we paid him back for all that he's done."
Sylvie's spirit is infectious for staff as well.
Social Studies teacher John Fields, who drove Sylvie's golf cart at the pep assembly and took him on a second lap to deafening applause, said, "Josh makes my day better by bringing me my mail.  He's just a super friendly kid, always happy and positive, every characteristic you would look for in a king.  I'm not the only teacher who would say that seeing Josh is the highlight of their day."
The feelings are mutual for Josh.  Sylvie identified Assistant Principal John Passarella as one of his biggest role models and supporters.
"He's cool, he's nice, and a handsome young fella," he said.
With homecoming weekend now behind him, Sylvie is filled with thankfulness for the gift his peers have given him and that he has earned.
Sylvie said, "Thank you so much for your support and your community.  It's all about being who you are and doing your best."
From everyone at Clarion, Josh, congratulations on winning the title of Homecoming King.  You are what is best about our school.
The entire Clarion staff contributed to this editorial.  The 2014-15 Clarion staff includes:
Steven Baer, Kiera Donnamario, Nick Cundari, Jimmy Nolter, McKenna Powers, Paul Kritikos, Robby Filec, Matt Arenas, Morgan DiVittorio, Niko Radicanin, Chris Olszewski, Cameron Yarger, Zach Hundrieser, Nick Kaczmarek, Charlie Connelly, Nina Dorenbos, Jessica Van Winkle, Molly Cunningham, Andrew Pilewski, Nick Rogoz, Cameron Shaw, Caitie Rusen, Rachel Magee, Izzy Echevarria, Galen Alaks, Danilo Lezza