Professional artists bring Arts in Education week to life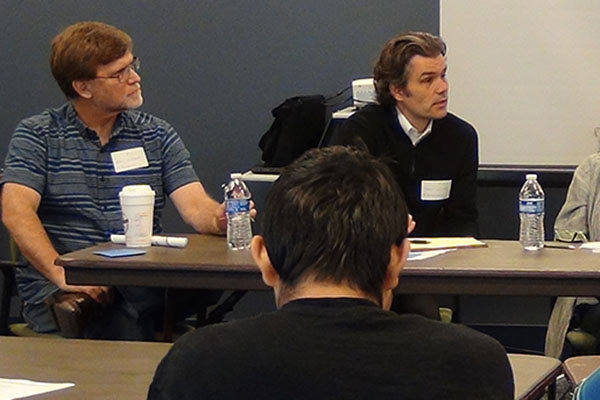 In honor of National Arts in Education Week, the Fine Arts department recruited six local artists to have a Q&A and presentation with AP Studio Art students. Through various connections, the department recruited six artists:  painter Anne Harris, architect Tom Jacobs, designer Bob Faust, part-time potter and former RB teacher Greg Colombe, art therapist Victoria Pietrowski, and photographer Eric Herzog.
The event, a smaller version of an event hosted by the Riverside Art Center for the past few years, occurred September 17.  The students/future artists spoke with the professionals regarding education, money, pros/cons, content and more.
Fine Arts teacher Suzanne Zimmerman helped to organize the event.
"[The point was to] expose our students to future career choices and the path taken to get there before making final decisions," she said.
The students listened to a panel of the artists, and then broke into smaller Q&A groups. Additionally, some of the artists chose to bring in examples of their work, whereas others opted to demonstrate or hold a workshop, and the students were invited to show their work, and get feedback on their portfolios.
The AP Studio Art students were able to take experience away from this event as well.
"[The event helped them] shape their portfolio presentation/preparation, future career decisions, and gives them a network for job opportunities, such as schools and internships," Zimmerman said.
The inspiration for this event stems from discussions at RAC, and a unanimous decision that kids need more exposure to the arts. The obvious next step? Bring the ideas behind the event at RAC to a more usable platform – the classroom, or, studio. One of the artists, Tom Jacobs, also ended up being a contributor, bringing ideas from 'Focus on the Arts' programs hosted at local high schools. The long term hope is to amp up the program and allow other students to participate.
Another way to honor Nation Arts in Education Week is to reflect on the benefits art provides.
"Creating, critiquing, and presenting art provides an opportunity for students to build life-skills that are not as accessible in other classes though a self-directed hands on process that is enjoyable," Zimmerman said.
Another popular viewpoint is that art is therapeutic as well as enjoyable, so the students who are able to take an art class are fortunate, getting a chance to break from the rigor of other classes. Statistically, students who are involved in art classes are more likely to stay in school because it is a means to build confidence and express their ideas in a way that is still challenging and rewarding.
"Art provides exposure to potential art-related professions, helps with test scores, and teaches practical skills, including patience, self-discipline, and problem-solving that students can carry with them to all facets of life," Zimmerman said.