Starting young key to sport's success
RB teams need to consider feeder programs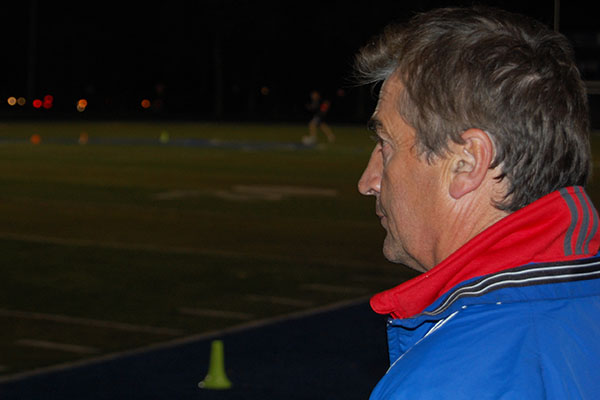 As the RB swim team lifted the sectional championship trophy high last year, the whole of RB cheered. The swim team is one of the most successful sports teams at RB, but what makes them successful? With the swim team, the success can be traced back to when they first hopped in the pool at a young age. On the deck, instructing these kids, was their future high school coach.
The rest of RB athletics need to follow suit.
"I have known those guys since they were about six," Boys Swimming Coach Todd Frydrich said. The top swimmers not only have known Frydrich, but have known each other since they started swimming together at the Riverside Swim Club all of those years ago.
"They are a more cohesive group," Frydrich said. This has lead to immense success over the last few years, and other sports need to sit up and take notice. This type of success is a thing that is grown over a really long time starting when the athletes are young.
These type of feeder programs are the foundation of several successful programs in the state of Illinois. For example, York High School has an incredibly rich tradition in cross country, and it began because their coach recruits good runners before high school. This creates a self-perpetuating program that is a perennial state contender.
"The self-generating talent pool is something that we strive for," Girls Cross Country and Boys Tennis Coach Brennan Denny said. While a sport at RB can have a few good years here and there, a sport can never be a contender for conference on a yearly basis without a thriving youth program like the swim team or a rich and long-standing tradition like York.
"You can look to sports such as swimming, soccer, basketball, and wrestling as great examples of a successful youth program," Denny said. All of these sports are expected to advance deep in the post-season every year, and they have their youth programs to thank more than anything. Youth programs not only introduce the athletes to their coaches, but also set athletes up for success when they arrive at RB.
"I know when I am getting a large group of talent, so I can choose when to build for the future and when to work with what I have." Boys soccer coach Danny Makaric said. Makaric has only two seniors on his current starting roster because he knows that he has a large talent pool in the Sophomores. "I have known that the kids were my best chance to win, so they need the experience" Makaric said, referring to his sophomores. These sophomores have been coached by Makaric since they were in second grade through Chicago International, the local soccer club. This is a benefit that Frydrich can agree with.
"When I get a new athlete into my program, I already know that they have a solid base of fundamentals that I can build on," Frydrich said. The coaches of sports programs do not need to worry about wasting practice time on running basic drills with their athletes, and can focus more on the nuances of a sport that can be the difference between winning and losing.
Starting a youth program is a large investment of time and money for any high school coach, especially one who is a teacher. However, the whatever effort a coach puts towards any kind of youth program, be it a summer camp or a year long travel team, will pay out in full in high school.