They're going to Disney World
Choir raises funds for unique trip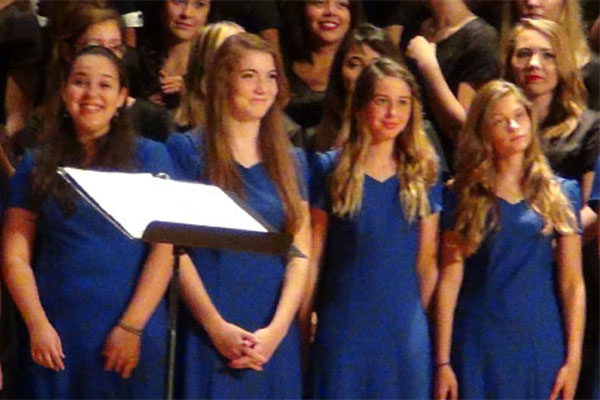 Each year, RBHS music students raise money for a trip that helps students practice performing in front of large crowds. The band and orchestra raised money to go to Nashville last year. This year, the choir is fundraising to go to Disney World. Through various fundraisers, choir students will raise money to help cut the costs of the trip.
To raise money for the Disney trip, the choir will have many fundraisers. Students will start off the fundraising by selling Worlds Finest chocolate. They will also sell cheesecakes later on in the year. For the last type of fundraiser, choir students will sell ads. These ads will be in the concert program for the upcoming choir concert.
Although this is the third year choir is going to Disney, they have gone to many other places in previous years.
"The last trip was to San Antonio and Austin, Texas. We had several performances, talked to a music professor, and saw the music scene," said Diane Marelli, choir director,  "no matter where we go, it's always an exciting trip."
At Disney, the choir will be participating in many activities.
"Disney has a great educational program. Choirs will be singing in a downtown park in Disney and in Disney Sings," said Marelli. Disney Sings is a choir program at Disney where professional singers help choir students with techniques and performing.
One choir student, Carlie Wilson, is planning on going to Disney with choir. She has been doing a lot of fundraising to cut costs for the trip. Wilson is currently selling chocolates, and later on she plans on participating in the cheesecake fundraiser.
Wilson hopes to gain a lot of singing experience during her time at Disney.
"It's Disney World! It's a different environment and different location with people that we are unfamiliar with and have never heard us [sing] before," says Wilson. She expects it to be a very exciting trip.
"Anywhere you sing is a good opportunity, especially in front of a large crowd," Wilson says.
During the trip to Disney, choir students will work on technique and performing skills, but they will also be having a once in a lifetime experience. One thing is very clear about this trip, it's not your average vacation.