Bulldogs fall in football rematch with Glenbard South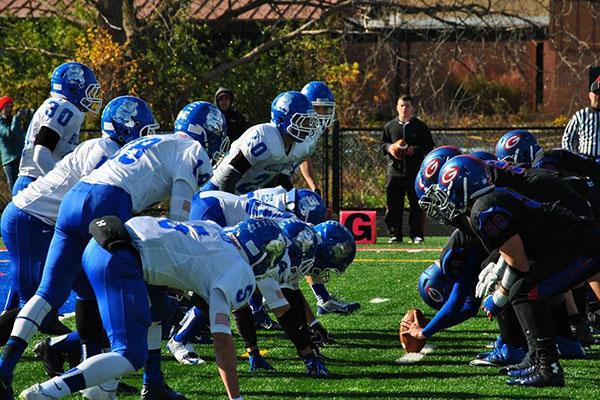 The Bulldogs went into their rematch with Glenbard South with one thing and one thing only on their minds: Revenge. In their previous meeting just eight days earlier the Bulldogs fell in a 38-34 heartbreaker to Glenbard South, in which the Raiders scored the go ahead touchdown with only 2.9 seconds on the clock. So naturally, when the playoff pairings were announced and the Bulldogs got paired up with the Glenbard South for a rematch, the Dogs were licking their chops at the possibility of vengeance.
However the Bulldogs were their own worst enemy in their bout with the Raiders. The Bulldogs turned the ball over a season record five times.
The turnovers were simply too much to overcome and the Raiders wound up running away with a 31-7 victory over the Bulldogs.
Although the Bulldogs were clearly disappointed about the result of the game, their pride for the season could not be dampened.
"Right after the game it was rough, knowing that we were never going to be able to play with each," said Dean Zigulich. "By now though, we all can appreciate the special season we had."
2014 was an extremely successful year for the Bulldogs, they amassed six wins and secured their first playoff berth since 2009. However, many believe it was just the beginning of greater things to come. With many returning starters including quarterback Ryan Swift, wide-out Zigulich, and defensive linemen Edwin Rios, the Dogs are primed to make another great run in 2015.
"This year was just the beginning," Zigulich said," We're going to be back for more next year."