TOP 5: Thanksgiving Flicks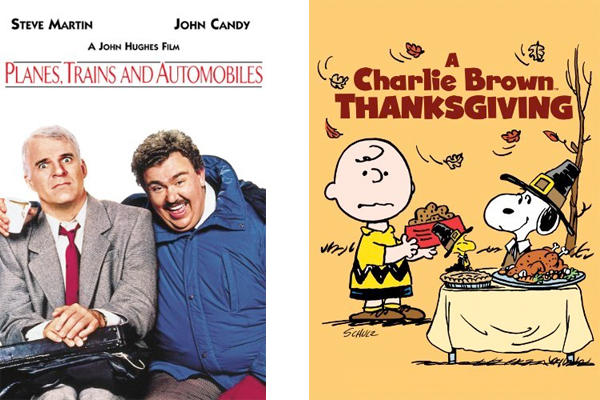 ABC Family is renowned for their 25 Days 'Til Christmas holiday special, where yearly on December 1, movies surrounding Christmas are played each night until the highly coveted day arrives.  Along with this special, in more recent years, ABC precedes the event with The Countdown to 25 Days 'Til Christmas.
Thanks to the vast commercialism of Christmas, Thanksgiving is completely hung out to dry.
No more.
Follow along with Clarion's top list of Thanksgiving movies and TV shows to watch this year to get in the mood for the holiday to come.
5 – Free Birds (2013)
In this hysterical animated buddy comedy, starring Owen Wilson (Wedding Crashers), Woody Harrelson (The Hunger Games), and Amy Poehler (Parks and Recreation), two turkeys with two starkly opposing backgrounds must team up to travel back in time to change the course of history. Their goal? Make sure that turkey never makes it to the Thanksgiving menu.
Despite the lackluster reviews from sources such as Rotten Tomatoes (49% viewer approval) and IMDB (5.9/10), this movie will certainly provide a few good laughs with a plot that, although more intended for a child, will still illuminate the fact that Thanksgiving is a holiday that should be cherished nationwide. If you liked the successful Rio, Cars, or Despicable Me, then this movie will definitely be right up your alley. Free Birds is for all ages and absolutely a movie that you can enjoy with the family, certainly propelling you to get into that Thanksgiving spirit.
4 – Home for the Holidays (1995)
In this star studded "dramedy,"with her daughter deciding to be rid of the Thanksgiving season, single mother Claudia Larson (Holly Hunter) makes a trip back to her childhood home to spend the coveted holiday dinner with her heavily flawed family. After instantaneously growing tired of her wacky kin, it seems as if the holiday is an abysmal failure; that is until sparks fly between Claudia and her brother's dashing friend Leo Fish (Dylan McDermott). Directed by Academy Award winning actress Jodie Foster and supported with the ever so great Robert Downey Jr. (Claudia's brother Tommy) and Anne Bancroft (Claudia's mother), this movie certainly exemplifies what it means to survive your family during the annual hectic holiday hubbub.
3 – How I Met Your Mother, Slapsgiving (2007)
 In the holiday themed episode of the Emmy Award winning comedy series How I Met Your Mother, it is the first Thanksgiving with Marshall (Jason Segel) and Lily (Alyson Hannigan) as a married couple and for Lily, everything must go according to plan. However, Robin (Colbie Smulders) has invited her seemingly ancient, 41-year-old boyfriend Bob to dinner and Marshall is terrorizing Barney (Neil Patrick Harris) with a countdown to the third slap of the "slap bet" that they created years prior. Barney attempts to make light of the situation, playing it off as if the looming horror of the third slap isn't a hindrance on what he believes to be any other Thanksgiving, but when Marshall goes to the length of making a computer countdown, it proves to be all too much for Barney to grasp. This episode more than any other, illuminates the true spirit of friendship and togetherness during the holiday season in a humorously relatable way. (You can watch this episode and every other on Netflix: Slapsgiving-Season 3 Episode 9)
2 – A Charlie Brown Thanksgiving (1973)
 It seems as if Charlie Brown and Thanksgiving are synonymous, and for that we are forever grateful to creator of the larger than life comic strip, Charles M. Schulz. Originally released in 1973, this holiday special is the 10th prime-time animated Peanut's special. In this particular short, Peppermint Patty "graciously" invites herself alongside her friends over to Charlie Brown's house for Thanksgiving. With Linus, Woodstock, and Snoopy, Charlie attempts to throw together a Thanksgiving dinner that the whole gang won't soon forget. This particular show, as well as A Charlie Brown Christmas, possesses a timeless charm that has warmed the nations heart's for decades and absolutely reveals no signs of stopping any time soon.
1 – Planes, Trains, and Automobiles (1987)
 While Charlie Brown gave the number one spot a good run for its money, there was certainly no way that he could beat out dynamic duo of Neal Page and Del Griffith for the heralded top spot. Page (Steve Martin), being somewhat of a control freak, simply wants to get home to Chicago in time for Thanksgiving with his wife and kids. However, when a freak snow storm hits, his flight is redirected to a no-name city in Kansas where his demeanor immediately transforms from excitable to someone with questionable sanity. To add to the chaos, he is forced to travel with talkative Del Griffith (John Candy), whom  he quickly grows an apparent annoyance for. Nevertheless, together the two must overcome the chaos that is traveling during the Holiday season to get back home in time to their desired destinations.
While all of these films are great for their differing strengths, each show captures a slice of life that truly illuminates what Thanksgiving is all about: family and togetherness. Two facets of life that drive happiness and the joyous aura to the holiday season. Before you get wrapped up in all of the Christmas cheer, take a little time to sit back, relax, and enjoy some of the quality films that Thanksgiving has to offer; you certainly will be glad you did.