EDITORIAL: At least offer Prom options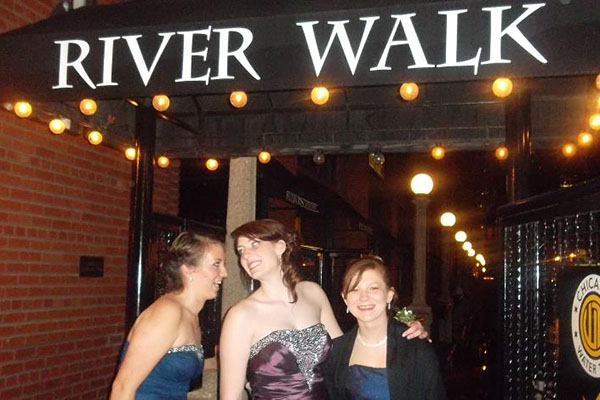 Historically, Prom has been held each year at a unique venue, but as of this year, the decision was made administratively to change that.  This year, Prom will be held at the Intercontinental Hotel in Rosemont.
And next year.
And the year after that.
And the year after that.
This decision to fix Prom's location ultimately came, as we understand it, from school administration and class sponsors.
When asked, Assistant Principal John Passarella said, "Students' tasks as student officers for the classes [has been to determine] a final location for Prom, as are their sponsors.  It's very difficult at times to find a venue that fits every piece of the puzzle like location, safety, cost, decorations, and security."
In past years, RB has managed to host Prom on a boat, in a museum, and other diverse locations, but now they just don't seem to meet the criteria that the school requires.  Instead, we've decided to return year after year to the same location.
We, as students, are not okay with that.
Instead, why not at least make a rotating system, with two locations for Prom, alternating every year?  Surely class officers and sponsors can find one more location which meets the school's criteria.  If RB could make that small change, students would not get sick of the Prom venue because they would not have to experience the same location more than one time.
By sticking with the same location every year, RB runs the risk of students not wanting to return to Prom.  It may be extremely hard to get students to want to go to the same place twice for an event that costs so much.  If less students attend Prom, ticket prices may increase to compensate, leading to a trickle-down effect where even less attend the next year.
More than theme, location makes Prom special.  People rarely ask what the theme of Prom was; they ask where it was held.  Decorations do make a venue feel more special, but a change in decorations cannot have the same feeling as hosting Prom in a spectacular place, as in the past.  Changing decorations does not change the overall feel of the venue.  Instead, Prom would be the same event, year after year, with just a change in color.
We understand that determining location, price, and date is a complicated process.  We just do not think that the end result should be fixing the venue for Prom.  Class officers start planning Prom during their freshman year, giving them a huge timeframe in which to figure out the details.
From our interviews, it seems that administration is open to the idea of making Prom a rotating system moving forward.  We hope that idea can become a reality.  Students who want to enjoy magical Proms during their Junior and Senior years, in two spectacular locations, will thank them.
The entire Clarion staff contributed to this editorial.  
The 2014-15 Clarion staff includes: Steven Baer, Kiera Donnamario, Nick Cundari, Jimmy Nolter, McKenna Powers, Paul Kritikos, Robby Filec, Matt Arenas, Morgan DiVittorio, Niko Radicanin, Chris Olszewski, Cameron Yarger, Zach Hundrieser, Nick Kaczmarek, Charlie Connelly, Nina Dorenbos, Jessica Van Winkle, Molly Cunningham, Andrew Pilewski, Nick Rogoz, Cameron Shaw, Caitie Rusen, Rachel Magee, Izzy Echevarria, Galen Alaks, Danilo Lezza.