Every Student Has a Story: Living with diabetes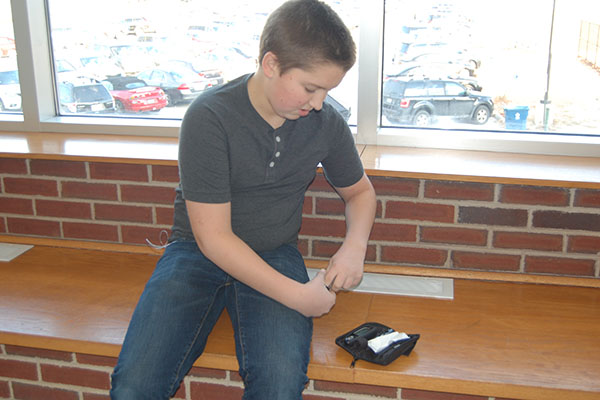 Every student has daily struggles, but few have the extremity of freshman Joe Connelly. For Joe, every day poses a challenge a little different from the last. Blood sugar dilemmas are what he has to keep in mind every day.
Joe was diagnosed when he was only three years old, back in 2003. He has Type 1 diabetes – this means it's hereditary, as opposed to Type 2, which develops in patients over time.
"It definitely is [a big challenge]. It's just easier now, because I didn't get it recently. I've had it eleven and a half years, pretty much my entire life," Connelly said.
Joe was a part of this year's golf team, and plans on going out for baseball here at RB. In addition to playing sports, Connelly has also volunteered at Camp Discovery in Glen Ellyn, Illinois. The camp aims to help educate children, primarily young ones who are just beginning to cope with their disease. Camp Discovery wants to teach the attendees both about diabetes, and how to manage it. Connelly attended the camp when he was younger.
"It gave me a lot of confidence," Joe said.
Having a disease like diabetes requires the partnership of many people. For Joe, he is fortunately able to manage it by himself, however he knows that some teachers and the nurse are prepared if he ever needs it, like emergency glucose.
For those who are not as versed in diabetic knowledge, a good range to keep your blood sugar at is 100 to 120. Joe had a borderline diabetic emergency a few years ago when he came in after running around, and discovered that his blood sugar had plummeted to a startling 23.
"There are days when my blood sugar doesn't want to agree with me, and that's when it gets in the way at school," Connelly said.
Unfortunately for Joe, diabetes has a huge potential to interfere in things like sports, which he wants to be able to do. Luckily, Connelly does not think diabetes will interfere with those plans.
"I'm at a point in my life where [diabetes] can be a struggle, because I'm growing," Connelly said. He is not alone; diabetes is a growing problem for many in the United States, though medical technology is making strides all the time.