Return of RB's clubs sign of changing financial times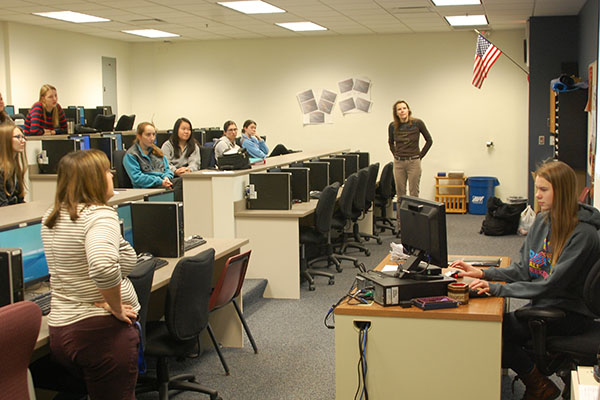 When the operating fund referendum failed in 2011, all of RB know that major financial cutbacks would ensue.  A less-than-stellar economy created a "perfect storm" for drastic change at RB – both fiscally and communally.
Three years later, however, as new clubs enter the building and old clubs (foreign language, Math Team, Fishing Club) return, the social wound is being mended.  So, is RB back on the right financial path?
"I think that the school district's financial footing is definitely in a better place than when I first came over to the district," RB Superintendent Dr. Kevin Skinkis said," When I came over to the district [2011-2012 school year], the school was operating on a $2 million deficit in our overall fund balance.That was at or about 30%. You should at least be around 33%."
Skinkis indicated clearly that improving their allocation of expenditures has directly given the school flexibility in being able to bring back the clubs. Neglecting athletics, activities alone cost above $$100,000 to operate at RB. With that being said, Skinkis is very realistic but hesitant in saying that these clubs's return is the sole sign that RB is back to the desired 100% that everyone is looking for.
The process for bringing clubs back is not as simple a process as many may believe. The route of re-entrance now involves an annually designed committee meeting where evaluation is taken place. A form is to be filled out by the club sponsor and if 50 students are to sign it, then the club can be reviewed by the committee for its approval. That evaluation ultimately looks to see if there is enough interest in the club for it to return.
 Any club that starts up again immediately is entered into volunteer status as well, meaning that the sponsor goes unpaid. If that club gains enough traction, the committee will decide if the club should be granted the money it then deserves.
Not only for administration is the return of these clubs a significant event, but it is as important, if not more so, to the people who are directly involved with day-to-day functions of the clubs themselves. For the sponsors specifically, it isn't about the money as much as it is about having a venue in which they can drive students to cultivate their passions.
"They were very excited to be back and have the team back," Math Team sponsor Melissa Gordon said," The students on this club have such a joy for math, they love being challenged. The joy that they get from figuring out a problem that is very difficult, or working together to solve that problem and compete but have fun is fun just to see. That is why I'm so passionate about running a club like this. That joy is something that they lost in the one year that it was gone, and it's exciting to see that it's back."
 Although not entirely new to the building, in her first year as the Interim Principal at RB, Kristen Smetana couldn't be more enthusiastic about the return of these clubs as well and what these clubs ultimately mean in the larger scheme of things.
"It's given the students the opportunity to get involved in RB, especially with some of the clubs that we've brought back. These clubs are giving the students, who  wouldn't have had the opportunity to get involved otherwise to build relationships with other students in the building and with teachers as well," Smetana said, "I think we've gotten the financial situation under control and we know exactly how much we can afford and what we can bring back. I think the Fall Play was a good indication of that. We were able to bring back that opportunity for a lot of students and that was a financial commitment that we made."
The fishing club is one of the many clubs to return to the building this fall, and it's return has been well noticed. Fishing club is in cooperation with Trout Unlimited, America's non-profit organization for cold-water fisheries. In years past the fishing club has provided an opportunity for boys and girls to balance humanity with nature–something atypical and interesting for RB students to take part in.
Senior Lauren Primer, member of the newly reinstated fishing club, couldn't be more thankful and excited about her favorite club returning to the building.
 "Throughout my life I've grown up casting alongside my dad, whether it be fishing at sunset on Treasure Island beach in Florida or fishing for bluegill at Mayslake during the summertime in Oak Brook. For me, fishing club is an opportunity to take my bait and tackle knowledge and experience a step beyond. I hope that it will provide solid ground for newcomers and experience for veterans, for both current and future generations of RB students," Primer said.
So do the clubs re-instatements indicate a positive financial footing for the building? Absolutely. However, while finances are crucial, this process has evoked something with more substance. There has been a rebirth in the building—rebirth of ideas, talents, and passions that the RB staff, students, and community were deprived of. With this increasingly positive financial future in sight, saying that RB can become the "oyster" it once was with endless possibilities is not foolish. It will take time and effort, but time and effort that has proven to be well worth it.