Back in directors' chairs for "Bye, Bye, Birdie"
Harsy, Dignan raise the curtain again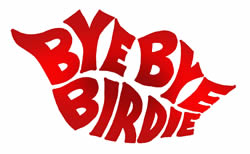 Spring musical directors Kathleen Harsy and Tom Dignan have selected "Bye, Bye, Birdie" for the annual production.  "Bye, Bye, Birdie" is the tale of one musician's final concert before being shipped off with the army.  The story follows hip thrusting rock star Conrad Birdie, his manager Albert,  Albert's secretary and girlfriend Rosie, and Kim, the girl who Birdie is supposed to kiss live on the Ed Sullivan Show.
"Ms. Harsy and I chose 'Bye, Bye, Birdie' because it's such a fun, upbeat musical we thought the kids would love," Dignan said. "The characters also fit the talents of our performers perfectly."
As previous directors, Dignan and Harsy planned to return to the directors' chairs after last spring's musical, "Northside Gal", which they wrote together.
"Ms. Harsy and I decided directing the spring musical was something that we would really enjoy doing together and providing a great opportunity for the students here at RB," Dignan said. "I've always loved theater, so this was the perfect way for me to bring my own personal interests and talents to RB."
The directors are involved throughout the whole performance, from the auditions to when the curtains close, and are able to see the performers grow–which is a highlight for assistant director Harsy.
"[The best part of directing is] seeing how much the students develop from auditions to opening night!" she said.
Performers themselves, Dignan and Harsy realize the hard work facing them until opening night, which will be this spring.
"The hardest part about being a director of a high school musical is keep your head on straight when there are so many different aspects of the job that need attending to," Dignan said. "It really is chaotic at times trying to manage all of the students' needs while also managing the behind the scenes elements that go into it. The payoff of putting on a great show with the kids is well worth any and all of that chaos."
Support of the arts is something that Harsy is very grateful for the second time around. "We are lucky to have an administration and community that supports the arts," Harsy said.
In addition, parent support is something Harsy realized from her own experiences.
"Performance opportunities are impossible without the support of our parents and I know this from watching my mom drive me all over the city and suburbs of Chicago."
Overall, as the show goes on again, the directors are looking forward to highlighting the unique talents of RB performers, learning from last year and also, continuing their tradition.
Auditions were held on Monday, December 1 and December 4 and callbacks were on Friday, December 5. Cast lists will be posted on December 9. A performance date has yet to be decided.