Boys' basketball off to historic start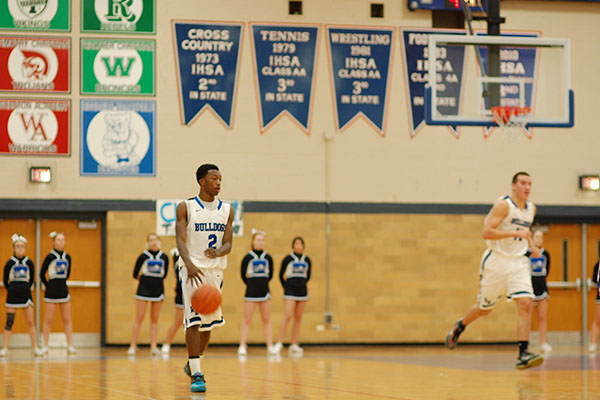 Bulldogs basketball is off to one of its best starts in program history. After they outlasted conference foe Glenbard South in a 65-53 win, the Dogs improved their record to 15-1. The Bulldogs' outstanding play has brought them a slew of attention from local media. CSN Chicago has the Dogs ranked tenth in the state. The only loss the Bulldogs have suffered this season came at the hands of Lake Forest, who is 16-1, with their only defeat coming from the number one ranked team in state, Stevenson.
There are many catalysts to which one could attribute the Bulldogs' great success at the halfway point of the season. One could point to the injection of invigorating youth from starting sophomore guards Jalen Clanton and Henry Trelenberg, or the incredible play of Sam Johnson. However the season's success goes way beyond the production of the starting five.
"Our depth this year is incredible," Johnson said. " When you have guys who can come off the bench and not miss a beat, that's really special."
Led by seniors Ryan Hanley, Paul Sitkiewicz and Kevin Fitzgerald, the Bulldogs' bench mob has been paramount to their success this season. When RB's starting point guard Daniko Jackson went down with a sprained ankle, it was the next man up. Hanley got the nod in Jackson's absence. The Bulldogs went on to win both games without their star point guard, as they beat Immaculate Conception and Aurora Central Catholic.
"I just do whatever it takes to help the team win," Hanley said.
The Bulldogs' selfless play and team attitude has certainly paid off. Their confidence is as high as ever. The Dogs' average margin of victory this year has been 22 points. They're out shooting, out rebounding, and out hustling opponents.
"It's all a product of our team mentality. Everyone knows their role and embraces it." Johnson, who leads the team in scoring, said. "We just have to keep doing what we've been doing, and we'll keep on having success."
Midway through the season, things are looking great for the Bulldogs. Throughout the basketball program's history the team has been limited, for the most part, to Regional titles and not much more. Although that's certainly nothing to complain about, the 2015 Bulldogs want more.
"The goal is to win a state championship," Hanley said.
While it may seem far-fetched, crazier things have happened. If RB Basketball is to ever win a state title, why not this team?