COLUMN: Don't lose the arts again
Our Town and Bye Bye Birdie signal return of the Fine Arts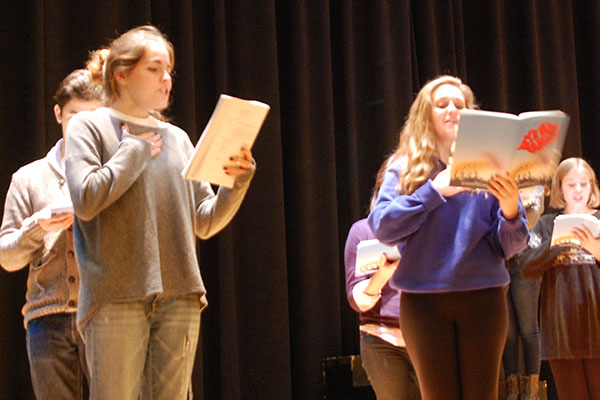 After wrapping up this year's fall play, Our Town,  Bye Bye Birdie is in the works as a Spring musical, marking the first time in four years, since the 2011 failed referendum, that both full-scale productions have appeared on the stage at RB.
Having such a strong theatrical presence this year has been absolutely incredible. Two shows throughout the year has given students a chance to perform with friends and learn a lot. The year feels very full and it's wonderful to be kept busy doing something you love, especially in a high school setting. Another added bonus is the variety provided by striking contrast between the two shows, Our Town being deep and philosophical, while Bye Bye Birdie is upbeat and lighthearted. Preparing to begin my last production at RB has gotten me thinking about the last few years and why this year is so special.
When the  referendum that would provide necessary funding for various activities at RB didn't pass, many clubs suffered, but the theater department here took a tremendous hit. Due to lack of funding, the musical and play were both cut. There is nothing that can be done about necessary budget cuts, yet it is the sad truth that in times of economic peril the arts are often the first to go. This is not a problem unique to RB; it is happening all over the country. This school has so many wonderful opportunities for anyone and everyone to get involved, but the cuts were a big loss for the thespian community.
That school year, an outside company rented RB's auditorium to put on Lil' Abner using only RB students for actors which was a fine short term solution, but there was no guarantee it would be there for years to come. The board did approve the return of the Spring musical for the 2012-2013 school year as well as the 2013-2014 year with a pay-to-play policy. Though a welcome step in the right direction, it is impossible to have a fully functioning theater program without both a musical and a play during the year. Plays and musicals are very different experiences and students deserve the chance to learn from both of them.
After a campaign launched by concerned students and parents in the summer of 2014, the Fall play finally returned to RB this year. With Bye Bye Birdie coming up this Spring, for the first time in four years, RB finally has a functioning department. Trying to rebuild this program has been a long and difficult road for students . Being involved in theater and the arts is an incredible experience and is such a huge part of the lives of everyone at this school. That cannot be taken away again. Students have proven that we care and are willing to fight to keep theater at RB. It is my hope that in the future, it will not only stay the way it is now, but it will continue to thrive and get stronger.
John Steinbeck once said, "The theater is the only institution that has been dying for four thousand years and has never succumbed. It requires tough and devoted people to keep it alive."
The students and teachers have proven we are tough and devoted to keeping the department alive, and with the support of the board, opportunities are endless.